The Department of Education in New Amsterdam is investigating an incident at the Central Corentyne Secondary School involving a teacher and a student, in which a student sustained a head injury that required three stitches. The student, La Toya Poole, 15, alleged that her teacher slammed her into a wall several times because she did not heed her call immediately.
Poole said that just after 08:30hrs yesterday, she was standing in the corridor, when a teacher sent her to get the keys for the Information Technology lab; the school bell had just rung.
As she went to get the keys, she said, another teacher called her and subsequently held onto her shirt and hair and slammed her head into the wood and mesh wall several times.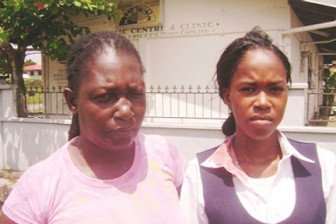 "She said I am a passa passa girl and ask me if I want to fight. I said no then I ran to my class picked up my bag and hurried home."
Poole's aunt Lorna Hope said she "burst into tears" when she saw her niece's bloodstained clothes. "I got very angry. I wanted to go to the school, but was advised to go to Whim Station, where I made a report, instead." She was then further advised to visit the Department of Education where another report was made to the School Welfare Officer, who promised to investigate the incident.
When contact was made with the Regional Education Office, this newspaper was told that Regional Education Officer Shafiran Bhajan was attending a meeting in Georgetown. However, an officer there acknowledged receipt of the complaint, and said statements will be taken from witnesses shortly.
Hope said Poole was unable to attend school during the first week because of financial constraints. The fourth of eight children lives at Alness Village. Her mother has left the village to seek work, while her father's whereabouts are unknown.
Around the Web