One Grade 5 pupil, out of 1,000 entered for a national Spelling Bee competition, will win the opportunity to represent Guyana at the Caribbean Spelling Bee in St Kitts.
GT&T in collaboration with the Ministry of Educa-tion yesterday launched the national Spelling Bee competition at Theatre Guild, Kings-ton Georgetown.
The competition which starts today will be held among Grade 5 pupils across Guyana. According to coordinators of the event, all the regional champions will gather at the National Cultural Centre (NCC) for the final on September 28. The winner of the competition will receive special prizes and will also travel to St Kitts, along with a parent and a teacher, to take part in the regional competition.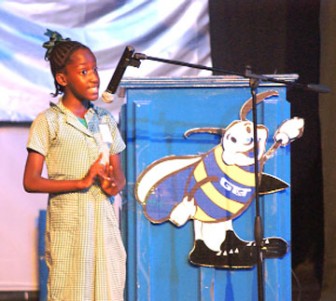 Speaking at the launching, Chief Executive Officer of GT&T Yog Mahadeo said the competition will not only develop the knowledge of the pupils but confidence and an attitude to learning. He added that the company is proud to be sponsoring the event because it is one that will give children an opportunity to excel.
He said the competition will be judged on the students' pronunciations, brain power, courage, vocabulary and confidence while adding that the main objective of the competition is to instill in students, role model and leadership skills.
"GT&T's commitment is to bring development among students and Guyanese people. Our destiny lies in the development of our country," he said.
The CEO announced too that the company is working enthusiastically to put smiles on the faces of the students, and in doing so, it was allowing them to design the Spelling Bee logo. The winning design will receive special prizes.
Chief Education Officer, Ministry of Education, Olato Sam, said partnership is the key to education while applauding GT&T for conceiving and facilitating the competition.  He stressed that spelling is important in improving literacy in Guyana and by studying words, children are able to develop positive skills in their overall comprehension thus improving their vocabulary and language skills. He said the competition will help students to build self confidence; give them the ability to thrive under pressure and also enhance their public speaking skills. "Ultimately, it is an opportunity for the entire school and community to support an exercise targeting academic excellence" he said.
Among the sponsors are Austin's Bookstore, George-town Reading and Research Centre, Wireless Connections, Starr Computers and Giftland; the platinum sponsors are Geddes Grant and Haliborange.
Around the Web