A 17-year-old boy lost his life on Sunday night when the car he was driving crashed into a utility pole on the Number 19 Public Road, Corentyne, Berbice.
Shavez Welcome called 'Lagadeau', of Mayor and Town Council Housing Scheme was driving PLL 8762 while Alistair Henry and Babita Persaud of Asylum Street were in the rear seats of the vehicle. They were returning to their New Amsterdam homes from the Digicel-sponsored curry competition at Number 63 Beach, Corentyne when the crash occurred around 9 pm.
Following the crash, the severely injured former Berbice High Student was removed from the vehicle but he appeared to be already dead, eyewitnesses said.
He and the others were taken to the New Amsterdam Hospital where doctors confirmed his death, while Henry and Persaud were admitted.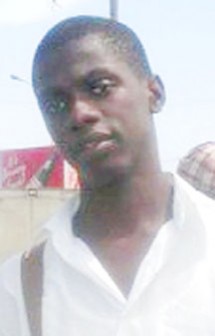 Speaking from his bed in the male surgical ward yesterday, Henry said he was seated in the rear seat, with his girlfriend Persaud, while Welcome was behind the wheel. He said he did not know what caused the accident.
Henry sustained fractures to the collar bone, left arm, two left ribs, left third toe, and his right foot.
Persaud sustained internal injuries. She was unable to say what may have triggered the fatal accident which killed their youthful friend.
Meanwhile, a driver reported that following the show and competition at the beach, several cars had sped off, including the ill-fated PLL 8762.
According to the man, who spoke on the condition of anonymity, he followed behind but had a call of nature which forced him to stop. When he caught up with the car Welcome was driving it was "wrapped around the lantern post", he said.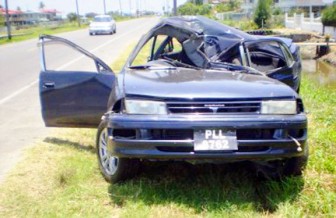 He said he stopped and assisted in taking the bloodied teenager and the other occupants out of the vehicle before continuing his journey.
When this newspaper contacted Shavez Welcome's mother Jillian Welcome, she was too distraught to speak.
Shavez, who would have celebrated his 18th birthday on October 14, leaves to mourn his parents, sister and other relatives.
Around the Web