The 15-year-old fourth form student of the Central Corentyne Secondary School who was allegedly brutalized by a teacher on Monday was still in severe pain and unable to attend school yesterday.
The student, La Toya Poole of Alness Village who sustained a gash to her head that required three sutures also complained of pain to her right ear and shoulder. Her shoulder was also slightly swollen.
According to her aunt and guardian, Lorna Hope, the girl was unable to sleep on the night of the incident because of the pain and discomfort.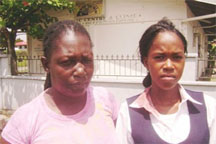 Hope told Stabroek News that Monday was the first day her niece attended school for the new term because of financial constraints.
Poole, 15, alleged that her teacher slammed her into a wall several times because she did not heed her call immediately.
Poole said that just after 08:30hrs on Monday, she was standing in the corridor, when a teacher sent her to get the keys for the Information Technology lab; the school bell had just rung.
As she went to get the keys, she said, another teacher called her and subsequently held onto her shirt and hair and slammed her head into the wood and mesh wall several times.
"She said I am a passa passa girl and ask me if I want to fight. I said no then I ran to my class picked up my bag and hurried home."
Poole's aunt Lorna Hope said she "burst into tears" when she saw her niece's bloodstained clothes. "I got very angry. I wanted to go to the school, but was advised to go to Whim Station, where I made a report, instead."
She was then further advised to visit the Department of Education where another report was made to the Schools' Welfare Officer.
Yesterday, the officer met with Hope and the girl in the presence of another officer. He promised to contact them today after speaking with the teacher involved in the matter.
Meanwhile, Hope who was still distressed about the way her niece was treated lamented: "I don't know if she has a problem at home but she shouldn't take it out on the students. She has children too…"
Regional Education Officer Shafiran Bhajan said an investigation has been launched.
Around the Web