The driver involved in Saturday's accident on Regent Street, which claimed the life of 52-year-old Drupattie Richards, was yesterday placed on station bail as police await advice from the Director of Public Prosecutions on the way forward.
A police official told this newspaper late yesterday afternoon that the man was placed on substantial bail. The 72 hours permitted by law to keep him in custody expired last night. This newspaper was told that a file was prepared and sent to the DPP for advice.
Meanwhile, relatives have expressed disappointment that the driver and his relatives showed no remorse for what had happened.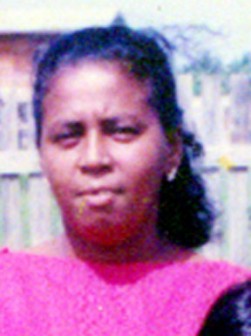 Richards' son-in-law Ganesh Pitamber told Stabroek News yesterday that the driver and his relatives were approached at the police station on the night of the accident. They however were unsympathetic and showed no compassion, he said.
Pitamber opined that the driver was speeding, explaining that he would have seen Richards staggering across the road and had he been going at a reasonable speed he would have been able to stop in time.
He said there was minimal damage to the car, but he was shocked to see strands of his mother-in-law's hair stuck in a huge dent in the front windscreen.
He told Stabroek News that a post-mortem examination performed on Monday showed that Richards, a resident of Triumph, East Coast Demerara, died as a result of head injuries. Richards will be cremated today.
Police had said in a press release that investigations had revealed that the driver of motor car PKK 8162 was proceeding along the roadway when it is alleged that Richards attempted to cross the road and was struck down.
She was rushed to the Georgetown Hospital where she died minutes later.
Her husband Norman Bennett had told this newspaper at the hospital that she would normally "come to town to take some liquor". The woman apparently had a favourite spot as when relatives wanted to reach her they would call that shop. She had left that location minutes before she was involved in the accident.
Around the Web