Guyana and China on Monday signed a 30 million RMB ($920M) grant agreement that would see funding for several projects here that are still to be determined.
According to a GINA release, the signing took place at the Business Conference of the third China-Caribbean Economic and Trade Cooperation Forum in Port-of-Spain, Trinidad. Finance Minister Dr Ashni Singh signed the agreement on Guyana's behalf while China's Commerce Minister Chen Deming signed on behalf of his country.
President Bharrat Jagdeo is leading the Guyana delegation at the forum and during his address he called on the Caribbean as a collective group to pursue a non-reciprocal trade agreement or a partial scope agreement with China, similar to the one that exists between Guyana and Brazil.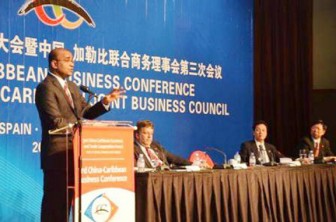 Addressing the conference at the Hyatt Regency Hotel, the President told government and business leaders that because of the small size of combined regional economies in relation to that of the Asian economic giant, the top 30 or 40 export commodities of the region could be given an ease from attracting duty on imports into China.  This, he said, would have a minimal effect on China but will generate significant wealth in the region because of economic size.
Jagdeo also called for a trade regime that would encourage value-added activity in the region, which he contended will narrow the trade gap that exists between China and the Caribbean.  "Several key issues must be identified, he said, and then by timetable, all must work to ensure that they are implemented and practical changes are made visible before the time of the fourth economic forum in four years," GINA said.  Calling for a structured engagement with China moving forward, Jagdeo urged regional governments to ensure that any such agreement is driven by private enterprise.
Over the past two decades, bilateral trade between the Caribbean and China has grown a hundred fold, from US$20 million in 1990 to US$2 billion in 2008, the President said.
"In the last ten years, China's exports have consistently accounted for more than 70% of total trade. In 2008, 93% of Caribbean-China trade consisted of China's exports to the Region. The region itself exported significantly (over US$60 million in goods) to China in that year. China has a growing demand for the Region's raw materials (i.e. gas and asphalt in Trinidad and Tobago, bauxite in Jamaica and timber, bauxite and minerals in Guyana). In addition, Chinese companies have used the Bahamas' close geographic proximity to the United States to manufacture and assemble products destined for the United States market, and to invest in the service sector such as tourism," President Jagdeo said, according to GINA.
He said the opportunity to be seized now is the forging of a model for long-term mutual engagement between a global economic giant and some of the world's smallest and most vulnerable states.
Noting that much of the engagement between Beijing and the Caribbean has been government to government, Jagdeo asked how some of the benefits can be channelled to the private sector.
"He called for a lending mechanism that keeps the Chinese money safe but finds its way into the hands of the private sector, particularly in an environment where the cost of capital is very high. He said if the framework is fixed this can be achieved", GINA reported.
GINA said that Guyana's high-level team at the forum includes Agriculture Minister, Robert Persaud; Transport and Hydraulics  Minister, Robeson Benn; Foreign Affairs Minister, Carolyn Rodrigues-Birkett; Tourism, Industry and Commerce Minister, Manniram Prashad; Culture, Youth and Sport Minister, Dr. Frank Anthony; Finance Minister, Dr. Ashni Singh and Director General in the Ministry of Foreign Affairs, Ambassador Elisabeth Harper.
Around the Web