Prime Minister Samuel Hinds, Minister of Amerindian Affairs, Pauline Sukhai and PPP/C advisor and presidential candidate Donald Ramotar lauded Amerindians for capitalizing on the opportunities provided to boost their livelihoods while preserving their culture, when Heritage Village celebrations were held in Aishalton, Region Nine on Saturday.
This year's celebrations was designed to showcase the work of the first Amerindian Parliamentarian, the late Stephen Campbell, who on September 10, 1957 entered Guyana's parliament to represent the Indigenous people, a press release from the Government Information Agency said. Observations were held under the theme 'Our culture, our heritage, our life: a fusion of indigenous diversity.'
In his address, the prime minister said he was pleased to be a part of celebrations honouring Campbell. He noted that Campbell's entering Parliament was a significant step as it highlighted some of the challenges later enunciated by the late Dr Cheddi Jagan in the mid-forties.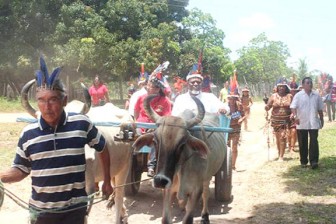 Amerindian Affairs Minister Sukhai then recalled the actions taken by the PPP/C administration in 1995 to ensure that national development took place among the diverse ethnic groups. She noted some of the bold steps taken by the late Dr Jagan in ensuring that Amerindians were given an opportunity to celebrate their heritage. Sukhai said that opportunity fostered cooperation among Guyanese and today they have matured to the level where all the ethnic groups now participate in national celebrations.
She also said during the month of celebrations there has been a noted growth in the interest, appreciation, recognition and acceptance of Amerindian culture, heritage, and life and that their development will remain a focal point in the national development agenda. "We must also celebrate our advancement which does not mean that we have accepted induced advancement but celebrate the responsible approach that we have displayed with the opportunities that are being offered to us so that we are able to mainstream our ethnic groups into the lifeblood of Guyana," Sukhai said, referring to education and job opportunities and inclusion in the national decision-making processes at the Parliamentary and Cabinet levels.
"As we celebrate, I want to encourage this current generation of Amerindians to ensure that they make a commitment to not only develop themselves but to contribute significantly to the development of your village," she charged. Sukhai also pointed out key leaders such as Doreen Jacobis, Yvonne Pearson, Bertie Xavier and George Norton who are pursuing Amerindian development.
In addition, Minister of Local Government and Regional Development, Norman Whittaker reminisced on the 15th Heritage Village celebration that is being celebrated as a national event. He noted that the PPP/C Government has worked with and has provided resources that have allowed Amerindians countrywide to enrich and preserve their culture and heritage, resulting in improved livelihoods. The minister also noted that the government believes in development with identity hence decisions concerning the nature of development in communities across the nation are not made centrally, but inculcate consultations at the level of the village council, village meeting, the regional authorities, National Toshaos Council, and even at the level of the Indigenous People's Commission.
Meanwhile, Ramotar told the audience that there is much to be celebrated. Regarding achievements, he said one of the things celebrated is the knowledge and foresight of the Amerindians who have kept Guyana in a fairly pristine state. "Today, this has allowed Guyana to take a leading role internationally, in the fight to preserve the environment, reverse climate change and ensuring that people all over the world have a good life. This was made possible by centuries of knowledge of the indigenous people," he said.
Ramotar also noted that one of the early challenges government recognised was that Amerindians were not a part of mainstream national activities. "We have concluded that we have to make available the important social services of education and health and other possibilities to give our people equal opportunities," he said. He also said that to date much has been accomplished in several fields in this regard and lauded the opening of the University of Guyana in 1963 as a major avenue in equipping citizens with an avenue for higher education.
Toshao Hildebrand James expressed appreciation for the opportunity provided to showcase Aishalton to the nation. He said he hopes its potential is recognised during this year's celebrations and opportunities provided for its future development.
Around the Web