The relatives of fisherwoman Phulmatie Rami are still awaiting further developments from investigations into her murder, as no other suspect has been apprehended.
According to the 68-year-old woman's daughter, Parmawattie Munillal, they are yet to hear from the police concerning the matter, "but we still want to know what happen".
The woman added that as far as she knew, her mother never had any enemies. She added that she was informed by residents in the village that the suspect, whom the police had arrested and later released, "does smoke".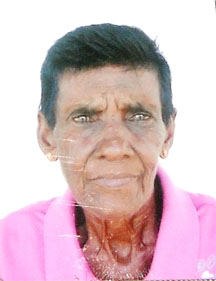 Crime Chief Seelall Persaud related to Stabroek News yesterday that there have since been no more arrests or further developments in the matter.
Rami's partially nude body was discovered floating in a canal aback of Cane Grove, Mahaica on the evening of August 29.
Relatives had reported the mother of nine, of Lot 54, Shawa, Cane Grove, Mahaica, East Coast Demerara missing at the police station in the area, after she failed to return home. She had left home around 7:30 that morning to catch fish.
After the report was made, Rami's relatives and the police formed a search party and subsequently came upon her body in the trench. Her small gold stud earrings had been ripped out of her ears while her back had several bruises. The woman's clothes were also partially pulled down.
Around the Web