A record number of children and nurses benefited when the Linden Fund USA (LFU) conducted another medical outreach exercise, this time in partnership with Benjie's Pharmacy under its new management.
The two-day exercise was held last Friday and Saturday at the Linden Hospital Com-plex (LHC) and the Linden Enterprise Network Business Centre respectively. "If it was only one doctor and she did so much, much less if y'all had a big team," a parent at the paediatric clinic noted.
With the assistance of a team of about eight nurses, Dr Shellon McAllister treated more than 60 children, an accomplishment she said was successful because of the level of professionalism demonstrated by the assisting LHC nurses, Women of Mission (WOM)/LFU youth group volunteers and the discipline of the patients, some of whom waited long hours before their turn came around.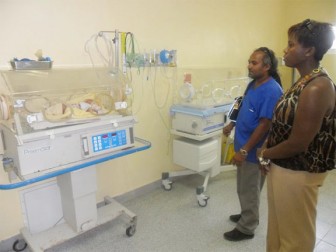 The medical outreach exercise came on the heels of the recently concluded LFU/ Overseas Medical Assistance Team (OMAT) medical mission which conducted about 40 major surgeries at the LHC. LFU Chairman Dr Vincent Adams said that the LFU family is once again thrilled to establish yet another great partnership with one of their own highly accomplished daughters of the soil. Dr McAllister is the daughter of Lindener, Alwyn McAllister, the owner of Benjie's Pharmacy.
"We are also extremely grateful for the show of hard work and personal sacrifices of time, efforts and resources, not only by Dr McAllister and her father, but also by the LHC nurses and the Women of Mission/LFU Linden based Youth Group, in making this an overwhelming success," Dr Adams said. He posited that the strength and future of a community is measured through the health and education of its young; "So this accomplishment once again demonstrates the wholehearted commitment by the LFU and our partners to give back to our beloved hometown of Linden, particularly when it comes to providing strong paediatric care in order to lay the foundation for a bright future for our children, Linden and Guyana."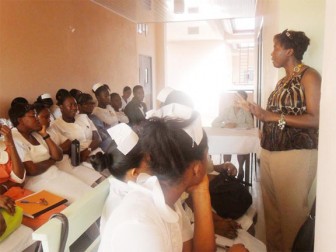 Dr McAllister is the newest addition to the team of medical professionals associated with the LFU. She was introduced to the Fund shortly after the recent Medical Mission and opted to render her services free of cost, since she was scheduled to be in Guyana. LFU Secretary Linda Felix-Johnson was elated to relay the news to the team. She noted that it was during a brief discourse with Dr McAllister that she was encouraged to incorporate the paediatric clinic to benefit a wider cross-section of children from around the Linden community.
Fulfilling
During a wrap-up interview with Dr McAllister, she said that residents' response was overwhelming. "This was very fulfilling, it felt very good to come back and service the place where I was raised," she said. Paediatric screenings resulted in the identification of a number of conditions, including a high occurrence of anaemia, a condition attributed to iron deficiency. "I had to make some dietary recommendations and I tried to guide them to some of the foods that are readily available in the community markets that are good sources of iron," she said.
Other conditions that were identified included ear infections, rashes, asthma, sickle cell anaemia, one unusually large abdominal tumour and a number of vision problems. "The good thing is that the hospital here has an optical unit and I impressed (upon) parents and guardians to ensure that those kids attend the clinic there because their cases are very serious and need immediate intervention or it can spell bad in the near future," Dr McAllister said. She noted that if a child cannot see well it is highly likely that he or she would be left behind in their academic pursuits which would not augur well and can have various spin-off effects.
Dr McAllister was also instrumental in facilitating a lecture session with nursing students at the Charles Rosa School of Nursing and the core of registered and senior administrative nursing staff attached to the LHC. The lecture was a response to a call by General Practitioner in the Paediatric Unit of the LHC, Dr Steve Mark. The lecture session was described as "very participatory" as nurses explored the skin with Dr McAllister.
Impressed
The doctor also toured the new LHC facility. "I didn't even know that Linden had a new hospital. I was very impressed with what I saw and will certainly be putting together some stuff that I see are needed to aid especially the paediatric and maternity wards," she said. Dr McAllister noted that there is a need for monitors, pumps and other equipment for the maternity ward's nursery which would significantly reduce the need for manpower when caring for newborn babies. "Those things are very important when working in an acute area like that," she added. She also said there are a lot of other needs and took careful note of them with the aim of supplying them.
In another two months, nurses at the LHC are likely to benefit further from another, more extensive training session. Dr McAllister is expected to be joined by her sister who is a clinical instructor attached to a university in Tennessee, USA, who has expressed interest in returning to Guyana to do some skilled nursing training.
"Linden Fund has been tremendously helpful because I was like a fish out of water not knowing where to turn or what to do when I planned this trip," McAllister said. She noted that this outreach exercise is the first of future lifetime partnerships with the LFU as she is convinced that the organization is well-organized, objective and committed to serving the residents of Linden. She is advocating for other overseas-based Guyanese and local persons to get registered with the group at the USA and Guyana locations.
Dr McAllister is a general paediatrician who received her undergraduate education at Florida Atlantic University in Boca Raton, Florida, where she obtained a bachelor of science degree in microbiology and then went on to the University of South Florida, where she received her medical degree. She subsequently did her residency training in General Paediatrics at the University of Florida/Shands and Nemours Children's Clinic in Jacksonville, Florida. After completing her residency, she moved to Nashville, TN, where she worked in a small private practice as an associate professor with Vanderbilt University Children's Hospital in Nashville, Tennessee.
McAllister was born in Linden to well-known former school teacher Donna McAllister (nee Jones) and former Guymine Technical Training Complex graduate and Regional Official Alwyn McAllister. Alywn McAllister attended the outreach clinic and lauded the professionalism of the LFU in organizing and executing the exercise. "This what I saw here has encouraged me to do much for and with the Linden Fund so I can play an even greater role in serving the people of Linden," he said. He is the new owner of Benjie's Pharmacy but he resides in the USA.
Around the Web