Crime Chief Seelall Persaud said yesterday that the death of 91-year-old security guard Adolphus James is now being treated as a murder after a post-mortem examination (PME) revealed that he died as a result of brain haemorrhage and compression injury to the neck.
The PME was conducted today and while James's employer expressed surprise at the police's conclusions, his relatives believe he was murdered.
Persaud said that no one has yet been held before pointing out that it is only now that ranks have determined that the Yuraballi Street, Retrieve, Mackenzie, Linden resident was murdered.
Asked about motive, he said that a place next door to where James was working the night shift was broken into and a number of items were reported missing. Persaud told Stabroek News that it is suspected that the elderly man might have witnessed the break in and was subsequently killed.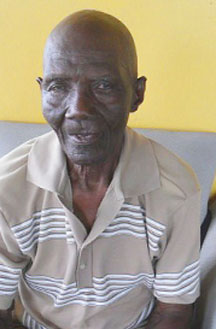 James who had been employed at the Amazon Security Firm since 1993 was discovered dead around 6 am at consumers' goods complex at Linden. This discovery was made by a female security guard who went in search of him after not seeing him in the guard hut.
Initially persons said that they suspected that the elderly man might have tripped and fallen; hitting his head on one of the many cement rocks at the back of the building.
Meanwhile, owner of Amazon Security firm Ewart Forrester said he was surprised at the finding of the PME. He said that at the scene there were no indications that the man might have been murdered.
He said one of the tenants of the complex had reported a break and enter to her store but investigations failed to show any sign of that. He said that all of the doors were intact, the grills were untouched and every other area was secured. "She said that the person went in through the roof but there was no evidence of this when we investigated," Forrester said.
The security boss said that he was still baffled as to how and why anyone would commit such a dastardly act on the elderly man who was harmless. He furthers said that the 91-year-old had been working with him for 18 years with a three-month break in service three years ago. The firm works with the retirement stipulations of 65 years but said that person who proved to be able bodied and want to continue are given the option.
Forrester said he tried several times to encourage James to retire, but he declined stating that all his children were overseas and he was going to be lonely if he stayed at home. "He said that he wanted to stay active," Forrester said.
According to Forrester, James was as able bodied as his younger colleagues and his agility matched theirs in most cases.
At the time of his demise, James was a supervisor with the firm and opted to work at the complex because he said that he loved that location. Forrester said that James was accompanied by another staff member who worked from 6 – 8 pm and was later joined by another supervisor who stayed on from 1 am – 4 am before leaving to go to the gas station.
However, James' relatives last night blasted the security firm. Speaking with Stabroek News from the USA last night the one of the man's sons-in-law said relatives feel the security firm is covering up some facts. "In the first place we were made to understand that this security firm is paid to have four guards at the location every night," he said, adding that they were informed that on the night in question James was left to work alone all night.
Confirming that James was in fact 91 years old, the son-in-law said, "He is an old man, he is not short of anything and his boss knew that so why didn't he put him to work the day shift if he so cared for his welfare?" He expressed astonishment that James was placed to work the night shift with just a baton.
He said James lacked nothing but insisted on not going to the USA and their efforts to get him to stop working failed on numerous occasions. "This boss has a lot to explain to me when I get there, something is fishy," the man said.
The relative related that James had called his granddaughter Racquel at 4 am but by the time she got to her phone the call was discontinued. "When she tried calling back she got no response," he said.
When the phone was taken from the man's pocket at the scene it was turned off, but a check revealed that he had indeed called his granddaughter at 4 am.
His children are expected in Guyana over the weekend and funeral is set for September 21.
Around the Web