Relatives of 46-year-old Basmattie Anantram, who went missing more than 3 months ago, are displeased with the way investigations into the matter are being conducted and are calling for more to be done.
A deteriorated body was discovered about a month ago at the Bath Settlement sea shore, West Coast Berbice and relatives of the missing woman, who disappeared since June 8, are convinced that it is her.
An examination was conducted Friday last on the remains by Pathologist Dr Vivekanand Bridgemohan, but the woman's brother, Dilchand Pooran, said he has not been able to get any word on the results. The man said he was only told by the police that the skeletal remains was found to have two missing teeth, which convinced Pooran that it was his sister's. "My sister did missing two jaw teeth just like the skeleton," he said.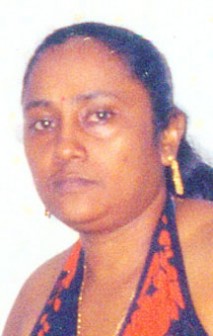 The man is questioning why more information is not being shared with him on the findings. "I ask de doctor if is a male or female and de doctor say that the police have to tell me. Then when I ask de police they saying they don't know until the doctor do the DNA test," he said. Pooran further opined that the doctor should have known whether the skeleton was that of a male or female from the structure of the ribcage. "I'm not satisfied with what they are telling me," he said.
He added that the police had related to him that doctor said the underwear worn by the skeleton was that of a male. "They say de doctor claim de underwear… was a blue brief," he stated.
Pooran called on the relevant authorities to look into the matter and to commence a deeper investigation. "We want them to get a statement from her husband since he was de only one she had a misunderstanding with before she disappear… Then not long after she come back and they together and she gone missing again and we ain't see she since," he explained.
"I'm not getting satisfaction from the police. They are not determined," Pooran further stated.
Anantram, better known as 'Dato,' disappeared from her Seawell, Corentyne home and was last seen by her husband.
It was reported that the man left some time around midday on June 8 to look after their cows and upon his return, about an hour later, he could not locate the woman.
One of the woman's relatives explained that her husband had migrated to the US, but was here on vacation when she disappeared. The man returned to the US two days after her disappearance.
Around the Web