A 54-year-old counsellor who went to the assistance of a woman who was being physically assaulted by a man was shot dead at a Stabroek Market food stand early yesterday morning.
Ralph Matthew Turpin of Lot 25 Agriculture Road, Triumph, East Coast Demerara and the co-founder of the Infinity Rehabilitation Centre located at the same address, succumbed to two gunshot wounds to the head before he arrived at the Georgetown Public Hospital shortly after 4 am.
Police, in a release last evening, said that they are currently searching for a police corporal who is implicated in the incident. Up to press time, he had not been located.
Based on investigations, the police said, "a senior police officer and his wife went to purchase food at the Stabroek Market during which there was an altercation involving females near the food stall."  According to the police, "it is alleged that during that altercation a man chucked one of the females and the deceased went to make peace during which he was allegedly shot to his head by the man who also placed a gun to the head of one of the females."
The senior office and his wife, the police said, are assisting in the investigations.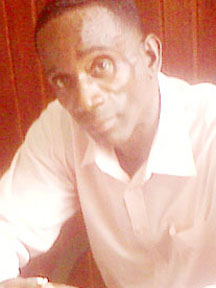 Based on the accounts received by this newspaper, Turpin and three other persons (including two women) had gone to buy food at the market when one of the women in the group told a man who was already there to hurry and make his purchase. This apparently angered the man who pushed the woman down. Reports are that the man was celebrating his birthday and may have been intoxicated. The group had just left a popular city night spot.
At some point Turpin intervened and the man pulled out a gun and shot the counsellor twice in the head. He later pointed his weapon at Karen Busbey-Girard who was with Turpin and pulled the trigger but no bullets came out.
The shooter and several other men fled the scene leaving a bleeding Turpin on the roadway. He was picked up and rushed to the Georgetown Hospital where he was pronounced dead on arrival.
Yesterday a distraught Busbey-Girard who is also co-founder of the rehab centre which was opened last November recalled bits and pieces of the ordeal to members of the media; her skirt still smeared with blood. She had to pause several times as she became overwhelmed.
She said her cousin had gone to buy the food and had apparently told the shooter to hurry up. She said she saw when the man shoved the woman and she fell. Turpin, who was sitting in the car, she recalled got out and said, "Man how can you treat a woman like that?"
Based on Busbey-Girard's accounts, this comment angered the man and he pulled out a gun and shot Turpin twice. He then turned to Busbey-Girard and placed the weapon to her head, pulling the trigger. According to the distraught woman, she was also chucked.
"Nothing escalated. This guy was just hasty," she stated adding that persons stripped Turpin as when he arrived at the hospital his gold jewellery was missing.
"He [Turpin] was not a man who drinks or nothing. He just concentrates on his rehab. He was a peacemaker," she said sadly.
Was a recovering addict
Turpin has been affiliated with the substance abuse recovery programme as he himself had been a drug and alcohol abuser. He had been clean for 18 years when he was killed.
Stabroek News was told that the centre was a halfway house for young men who were substance abusers. It was explained that it was because he was himself a victim, Turpin decided to start the programme so that he could give back to men who were on that same road he had travelled many years ago.
Christopher Sultan recalled that he benefited from Turpin's kindness when in 2008 the man turned up and signed for him at the Eve Leary Police Station, when he returned to this country though he was a stranger.
Describing him as a full time counsellor, Sultan explained that Turpin "was the type of person who would bring someone off the streets who don't have a future and give them a future. Someone who is living in a cardboard box at the market, he would bring them here and give them a life, give them new hope."
Close to tears, the young man told reporters that Turpin died believing in helping people who could not afford to help themselves.
"He went to go make peace with someone who was beating a girl and got killed for it," he said, fighting back tears.
He said services of the centre have to continue as if "anyone of us walk out of here it would be a spit in Ralph's face". He said that catching the shooter will not bring the counsellor back but he will leave everything to God.
"Revenge is not up to us anyway. The persons who did it, you guys know who you are. You didn't have to kill him… that's wrong."
Around the Web