Guyanese Shameer Allie, a violent convict who was dubbed one of "Canada's Most Wanted," was arrested in the Toronto area yesterday morning.
According to a report in the Toronto Sun, Allie, 36, had a number of criminal convictions in Canada, including assault with a weapon.
He was among four Guyanese on Canada Border Services Agency(CBSA)'s recently released list of names and photos of foreign fugitives hiding in Canada.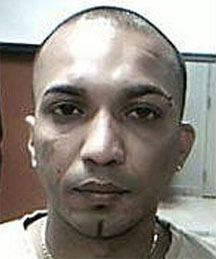 Allie was wanted on a Canada-wide warrant for removal from the country. A tip to the CBSA website led to his arrest, the agency said.
The other three Guyanese men, who are still at large, are Vibert Henry, Delon Jemmott and Krishnadat Ramnarine.
Henry, who is known as 'Tiger,' 44, was convicted of breaking and entering, assault causing bodily harm and attempted robbery. Jemmott, who is also listed on the Interpol website as being wanted by the Canadians, has been convicted of assault with a weapon and on three counts of assault. Ramnarine, 39, was convicted of assault with a weapon and uttering threats and assault.
Around the Web