Agriculture Minister Robert Persaud on Thursday commissioned a $44.3M walk-in freezer and refrigeration and air-conditioning equipment at the Government Technical Institute (GTI), in keeping with Guyana's commitment to an international treaty to protect the ozone layer by phasing out the use of substances that cause ozone depletion.
The equipment is being seen as a significant boost for trainee refrigeration and air condition technicians and is expected to help create an environment for training that complies with the conditions of the Montreal Protocol of 1997, to which Guyana is a signatory, the Government Information Agency (GINA) said.
At the commissioning ceremony, Persaud noted that Guyana takes its obligations under the accord seriously and it has been named as one of the few countries that have exceeded obligations for phasing out of Chlorofluorocarbons (CFCs). "This shows that our government is very serious when it comes to the issue of protecting our environment, when it comes to the issue of ensuring that our climate system is not further harmed," he said.
According to GINA, in addition to GTI, high-tech facilities have also been installed at the New Amsterdam and Essequibo technical institutes, the Guyana Sugar Corporation, the Port Mourant Training Centre and the Association for Private Refrigeration technicians. Persaud encouraged students at these facilities to continue to update their qualifications, while noting that Guyana is committed to fulfilling its obligations to positively impact all the efforts that are being made to reduce the threat to the ozone layer.
"In Guyana we have taken a very integrated approach in terms of dealing with climate change.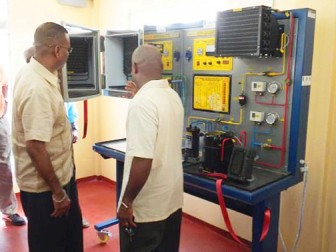 We need to have a integrated approach if we are going to successfully deal with this challenge…this will allow us in the long-term to continue to be consistent with our obligation to fulfil the promises we made internationally, as well as to assure the international community that we are very serious about protecting our climate system," he said.
Guyana acceded to the Vienna Convention and Montreal Protocol on August 12, 1993 and in October 1997 and a country programme to phase out the use of ozone depleting substances was prepared. In his regard, a MoU was inked with the United Nations Development Programme (UNDP) for the continued training of refrigeration technicians and customs officers and the Agriculture Ministry was appointed the focal point in Guyana for the implementation of activities under the Montreal Protocol. A National Ozone Action Unit within the Hydrometeo-rological Service has also been established and it is tasked with coordinating activities to control and phase-out the use of ozone depleting substances.
Another MOU through a Multilateral Fund valued US$66,000 via UNDP will soon be inked to assist with the phase-out of Hydro-chlorofluorocarbons (HCFCs).
At Thursday's ceremony, UNDP Resident Representa-tive Chisa Mikami said the equipment will ensure that activities to protect the country's ozone layer continue. She noted that it will help Guyana to phase out the use of ozone depletion substances and the UNDP is pleased to be contributing to the successes of the country as it has always contributed to the protection of the ozone layer. Mikami lauded Guyana's leadership role in these efforts, while noting that this country is "currently way ahead of many counties in this regard."
Around the Web