GT&T will spend in excess of $50 million on this year's Jingle and Song Competition, Chief Executive Officer Yog Mahadeo said on Thursday as he launched the much anticipated event.
The barriers have been removed as well, he said, pointing out that the competition now allows participation of any age and has two segments – English and Indian music.
"We even moved the budget up and this year… we are going to spend a whopping, excess of $50 million on the jingle and song competition to support music, to support Guyana," he stated, adding that GT&T is looking to provide the medium through which our Guyanese can make their dream a reality.
Among the many prizes up for grabs are two cars.
The audition team will travel across Guyana between September 23 and October 4, when the cream of the crop will be selected to go on into the second stage of the competition, where the next star will be identified.
Mahadeo stated that he has challenged his team to not only identify the best singing but the best lyrics as well, for which the producer will be awarded.
"I want to see humour, patriotism, nationalism, religion, culture, sport, every aspect of our country to be reflected in the lyrics," he added.
The competition will run into December and will see an independent final and also the grand finale. The difference between the two, Mahadeo explained, is that the finals will allow the public to place their vote, while the grand finale will see the winners. It was noted that the grand finale of the Indian segment will be held in Berbice whereas the English segment will be hosted in Demerara.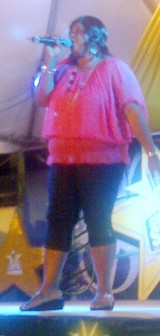 Minister of Human Services and Social Security Priya Manickchand, also addressing those in attendance, gave the competition her stamp of approval.
"I like the fact that it is going to be national with auditions all over Guyana. I like that we are allowing our young children to dream and realize those dreams because we have no age limit and I like very much the fact that there are two segments, an English and an Indian one, which really allows people to explore and determine where their talents lie and what they can do," she indicated.
"Where there is talent met with opportunity, we are going to see explosions in Guyana, explosions that can only be good for Guyanese people," Manickchand said, adding that these types of competitions and activities allow opportunity to meet will, to meet talent and to combine to give individuals their dreams as well to give Guyana the kind of recognition that can so easily grasped once the opportunities are provided.
Nadia De Abreu, giving a brief background of the event, stated that this is GT&T's fifth year of jingle and song competition, which since its launch has catapulted local artistes to follow their music career and reach and live their dreams.
In 2005, she noted, entertainment enthusiast Kerwin Bollers emerged with the idea of a jingle competition that was endorsed by GT&T, which immediately took on the challenge. Then, participants simply wrote an application and submitted a tape with their recording.
The 2005 jingle winner was Timeka Marshall, who today is a recognized singer around the Caribbean. "[She] launched her career on GT&T's jingle platform," De Abreu stated. With a successful competition and the keen interest shown, GT&T decided to launch a bigger jingle competition and so the next year, it was organized on a larger scale, taking all the lessons learnt on board.
"The second year's event moved from the confines of the NCN studio to the National Cultural Centre. By this time, Berbice, Essequibo and Linden were all on board," she said. In 2006, the host said, Sean English emerged the winner, followed by Cleon Cadogan who excelled throughout the competition that year.
There was no competition in 2008 and 2010 and so the 2009 jingle and song competition winner, Malika Boyd, is the reigning star.
Around the Web