New US Ambassador to Guyana Brent Hardt has reaffirmed Washington's commitment to open, candid and constructive dialogue with Guyana, while saying his priorities include forging ties between the two nations.
Hardt made this pledge during a media briefing after he presented his Letters of Credence to President Bharrat Jagdeo at a ceremony at the Office of the President on Thursday, the Government Information Agency (GINA) said.
The new ambassador is filling a post that has been vacant for over two years and his arrival last week came on the heels of the release by WikiLeaks of US diplomatic cables penned by his predecessors, who were critical of the Jagdeo administration and expressed concerns about its unwillingness to combat drug trafficking.
However, Hardt said he was not bothered or discouraged about integrity being compromised by the WikiLeaks revelations. He said he was not at liberty to pronounce directly on any of the information in the cables, but explained the process for communicating with the Washington DC office, which he said is shared by other governments around the world.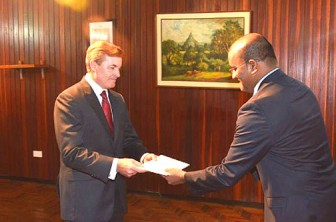 "What embassies generate is raw material that makes policy but is not policy… so it's part of our job to try to understand what's happening in society. We hear impressions, we hear opinions and we do our best to analyze what's going on and provide that to our policymakers in the United States who then make decisions," he said.
According to GINA, the new ambassador said his focus will be on ongoing programmes in partnership with the Guyana government, such as the local HIV/AIDS programmes, which he described as a model for the rest of the region, and continued focus on economic diversity, and combating drug trafficking and terrorism.
"USAID [the United States Agency for International Development] has been looking at new niches where Guyanese businesses can export to new markets… we certainly look forward to working with the government and civic society to ensure that the elections are fair and open and we have every reason to believe that they will be," Hardt added.
He also said that some aspects of his dialogue with the president focused on the important contribution the Diaspora community is making to both countries and the United States Secretary of State Hillary Clinton's advocacy for the Diaspora to be more engaged in their countries.
Around the Web