The exhibition of work of five artists of the Sophia Artists Group and two guest artists, marking the International Year of People of African Descent, closes today at the National Gallery, Castellani House, Vlissengen Road, Georgetown.
According to a press release from the art gallery, 'A Tribute to Our Ancestors' includes works of sculpture in samaan, purpleheart, mahogany and other Guyanese woods by the group's co-founder, Louis Jordan, and by Rawle Pillay and Andre Duncan.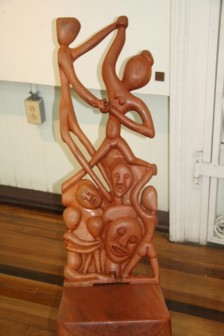 Works include figure studies, carved bowls, a stool and table with relief and figure detail, and relief-carved folding chairs, on themes such as 'Meditation', 'Single Mother', 'Domestic Violence', 'The Family', 'Lady Ebony', and 'The Unity and Struggle of  the Guyanese Grassroots Artists'.
Additionally, mixed media craft including crocheted threadwork and jewellery, banana leaf costumed dolls and leather handbags, by Natasha David, Pam Bharrat and Jordan, are on display, along with several paintings and one figure study by guest artists, the established painter Merlene Ellis and sculptor Linden Jemmott respectively.
The National Gallery is open from 2 pm to 6 pm tomorrow.
Around the Web