Type two diabetes, which has a direct link to childhood obesity, is being detected in children across Guyana, prompting authorities to intensify their fight against non communicable diseases (NCDs).
This was disclosed along with plans and programmes aimed at sensitizing the public on these life span shorteners, when the Ministry of Heath yesterday launched its 'Love that body, Love Life, Stay Healthy' campaign at its boardroom Brickdam, Georgetown.
The ministry's arsenal to be used in the fight against NCDs includes public education health programmes, school awareness programmes and engaging the media and telecommunication companies to join the fight.  A "Love That body " jingle will be played on both television and radio since it was found that this type of awareness medium is most likely to grab the attention of youths. Songstress Tennicia Defreitas performed the catchy "Love That Body" jingle to the delight of the audience.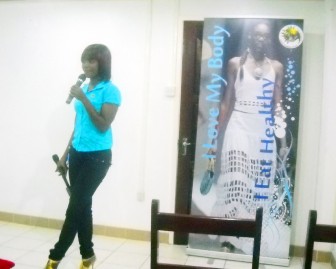 Delivering the feature address, Minister of Health Dr Leslie Ramsammy said it was overwhelming to state that data collection showed that 80% and 60% of deaths in developed and developing countries, respectively, were attributed to non communicable diseases. This epidemic, he added, is raising alarms globally and in an effort to formulate a plan to tackle NCDs the United Nations will hold a high level meeting on Monday.
The minister stressed that although NCDs cases are increasing, with lifestyle changes they can be reduced to nil. Said the minister, "We want the public to know that non communicable diseases are not inevitable. We will educate and empower people through education. Every citizen in Guyana… would be given the information needed to prevent, diagnose and treat these diseases."
Dr Marcia Paltoo, Director of the Chronic Diseases section within the ministry gave a PowerPoint presentation overview of NCDs and ways of preventing them. She too stated that for too long NCDs were tolerated but through small lifestyle changes they will be eradicated at least from Guyana.
The 'Love that Body' campaign is one of many that the ministry plans to implement as part of its strategic plan in combating non communicable diseases.
Around the Web