"If we will eradicate poverty, we must have a proper education system." These were the words of APNU's leader David Granger at a Youth Symposium hosted by Community College yesterday.
The theme of the symposium was 'Empowerment Thru' Education,' and the main opposition's presidential candidate addressed some key issues affecting Guyana's youth in relation to the education system. According to Granger, there are three major crises affecting our youth; the employment crisis, the education crisis, and the empowerment crisis. The politician noted that August of last year marked the end of a barely recognized International Year of Youth, and throughout the entire year of celebration there were no events to mark it until about two days before it ended. With this in mind, he said that APNU's overall scheme is to have a Plan of Action for Youth Empowerment (PAYE), and one item on the agenda is to establish an annual Youth Week celebration in the month of August, when the activities and attention would be centred entirely on the youth. This, he said would ensure the recognition of the importance of youth to the country.
In the field of education, Granger promised that once his party is in power, he will ensure that "you [youth] belong to something called an 'Education Nation.'" He promised to provide school buses, uniforms and a school feeding system for students across Guyana. Speaking on the present schooling and education conditions he stated "It's no use providing education when there's no free transport," while highlighting some areas he'd visited in Linden, Berbice and elsewhere where students had to pay fares above their means to get to school. He also highlighted the lack of a sufficient emphasis on important subjects such as Science, Botany and Biology, which would help in Guyana's development; "You can't develop this country with historians, but with scientists…" He also promised his governance would ensure that "competent teachers are in classrooms," teachers who will be paid and provided with proper housing and extension of service to those desirous of such. "We will ensure that UG and CPCE have top quality lecturers [who are] well-paid.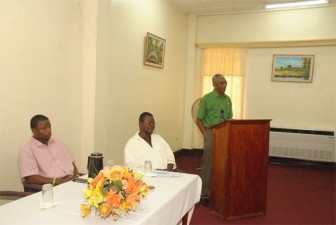 Granger further highlighted the absence of properly equipped computer and science laboratories in schools in Guyana, and promised that with APNU in power all schools will be better equipped. In addition, he also mentioned the scarcity of internet 'hotspots,' which prevents young people from accessing much needed information. "Everyone is entitled to information and everyone will get access to that," he said, promising to have the installation of WiFi signals all over Georgetown and even out of town.
One other issue highlighted by the presidential candidate was that of a lack of proper sports facilities in communities, as a result of which, "the only sporting facilities in many villages come out of a dark brown bottle."
Also present at the symposium was a representative from the Alliance For Change (AFC), Trevor Williams, who, apart from agreeing with Granger on several issues with regard to the education system, said "there exists nepotism, race, friendship, favoritism," and other forms of corruption in Guyana's society, which are affecting the youth. The speaker encouraged young people to take up the task and stand up for their own rights; "The task is on you, not political parties…we have to wake up and decide… go to the polls with education and intellect… this will cause political parties to pull themselves together."  On the theme of education, he told the youth present to "take your education and make use of it… as it was intended…organize yourselves, get together in groups, make demands."
The Youth Symposium was held yesterday in the Conference Room of the National Library.
Around the Web