The owner of the boat in which the captain and a 15-year-old boy were set alight and later died from their injuries said he did not hire the alleged attacker nor did he hire the boy to go to sea.
Bridgelall "Anoop" Hardyal, 29, of Chesney Front told Stabroek News that the captain was responsible for choosing persons to go to sea with him.
Beeram Motee Lall, 45, of Rose Hall and Renard 'Rene' Fernandes, 15, of Lot 288, Reef Section, Rose Hall, Corentyne perished a few days after they were attacked and left nursing severe burns about their bodies. The duo was taken to the New Amsterdam Hospital and Lall was transferred to the George-town Public Hospital. He died a few days later while receiving treatment and Fernandes died on his way to that institution the next day.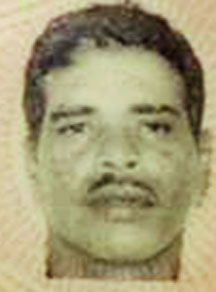 Hardyal said Lall, who shared a common-law relationship with Fernandes's cousin, took the boy to work that morning. He recalled that they were short of another crew member and Lall picked up the alleged attacker, known as 'Fred,' along the way. They were fishing off the foreshore at Albion when disaster struck.
According to Hardyal he knew Fred because he had worked "one and two times" for him in the past. He said Fred, who reportedly consumes a lot of alcohol, had been living with relatives in Suriname and had returned about 10 years ago. Hardyal also said the man had worked for various fishermen "but this is the first time he did something like this." He also said that that was the first time that Fernandes went out on his boat.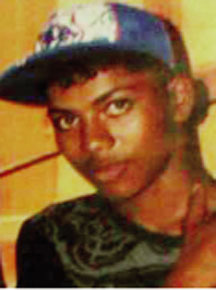 Asked about allowing the boy to go to sea at that age, he responded: "With fishing work you don't ask for age and they don't come with ID cards. They just jump in the boat and go." He pointed out that "about 20 underage boys are working at the Albion shore," noting that that is not the "right thing to do but times are hard and everybody trying to make a living."
Fernandes's mother, Indrawatie Sookdeo had lamented "…meh son didn't deserve to die so young…. Six months back he come out of school [Rose Hall Community High] because we poor and he said as he getting older …he go try and help by going wid he father and other fishermen fuh mek ends meet." She said her son, the second of five children, had gone out to sea three times prior to the incident because he wanted to assist her with purchasing items to send his younger siblings to school in the new school term. On the last occasion, though, she claimed that he left without her knowledge to go to sea along with Lall.
Reports are that after the incident Fred acted as though he suffered from a mental problem. The victims' relatives questioned how the owner could have hired "a man like that to work for him" but Hardyal insisted that he had not hired Fred. He noted that when he saw the man at the koker before they left for sea he appeared to be normal and he is distressed that Fred is out on the road walking freely when he should have been facing the full brunt of the law.
But a police source told this newspaper that as far as he knows, the man is under observation at the National Psychiatric Hospital, "waiting to be checked out by the doctor" who is currently on leave.
Lall's reputed wife, Shelliza Sookdeo, 23, told this newspaper that she never saw Fred until the morning when they were preparing to leave for sea. She said he was helping to carry the engine and other items and he looked like he was in "perfect health." According to her, "after it happen he walk from the koker that night and go to the station and made a report. If he mad how he know he gat to go to the station? Guywa [GWI] office is right next door, why he didn't go there and say ah come to make a report?" she lamented.
Shelliza said her husband had related from his hospital bed that Fred ordered him and Fernandes to "pull in the seine but because they tell he that time ain't reach to pull in the seine he get vex and threw water on them but they didn't bother wid he." She said that the man reportedly "leff and go to the back of the boat and returned with a bucket" and poured the contents on them. They did not realize it was gasoline until the man "strike the lighter and them had to jump overboard."
Shortly after, while climbing back into the boat, they were forced to rush towards the assailant and subdue him as he attempted to toss the contents of another bucket in their direction. "Dem manage to grab he by he foot because he really did want to kill them," Fernandes's mother had told this newspaper. They then tied the man to the boat before setting off for shore. When the boat arrived around 10.30 pm, Fred, dressed only in his underwear, left and made a report to the police.
Meanwhile, the victims' relatives have claimed that the owner did not assist with funeral expenses. But Hardyal said that he was willing to purchase the two coffins, assist with one night storage of the bodies at the mortuary and with the transportation. He said that at first the relatives agreed to accept that but he later received a call that they had changed their minds. According to him, Sookdeo and Lall's reputed wife are asking for a lot of money and "I am glad to give them the money. I am glad to assist them but I don't have it…"
According to Sookdeo she has lost her son… "that is one I loved most. I know I cannot get back my son but at least I would be willing to accept some money." She said if the owner wanted to assist as he said he could have gone ahead.
Hardyal said he had been visiting the duo at the hospital but claimed he stopped "because of the way the family went on." He said they threatened to burn his boat and to beat his wife who is a fish vendor at the market. The man also said he had exhausted his savings to send the men out to sea and he now has additional expenses to repair his partly damaged boat and to get his business going again. According to Hardyal, he is also "heavily indebted" to the bank and he also has to pay monthly instalments to Courts Furniture Store. He says he understands the relatives loss and grief and he sympathises with them because "I know what is a loss; I know how they are feeling. I lost my mother three years ago." Two of his younger brothers whom he provided for also died last year and the previous year at the age of 19.
Around the Web