The decomposing remains of Sewnarine Deonarine who hacked the mother of his children to death last Tuesday was yesterday morning found in the bushes at Rasta Country, Laluni Creek, Linden/ Soesdyke Highway.
The couple's daughter, Monica told Stabroek News by phone yesterday that it was a relative who stumbled upon the body. She explained that a relative decided to launch a search after getting an overpowering stench. The body was found around 9 am.
According to Monica, her 47-year-old father committed suicide as a bottle that contained poison was found near the body. Moments after hacking Tessa Romascindo to death at their Rasta Country home, Deonarine had called Monica confessing to the act and saying that he had consumed poison.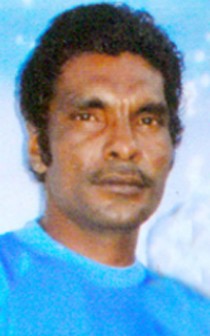 When Monica arrived at the house which is located at an isolated spot, she found her mother's body in a clump of bushes behind the house. From all appearances, after chopping her multiple times to the neck, face, hand and back, Deonarine dragged the body into the bushes and covered it with grass. He then collected a change of clothing from the house and fled.
He called relatives several times that days stating that he had consumed poison. Efforts to contact him the following day provide futile since the phone was turned off.
Monica and other relatives had told this newspaper that they did not believe Deonarine had consumed
poison but was in hiding.
Based on the accounts received, Romascindo a 35-year-old mother of seven children between the ages of 23 and seven had little chance of surviving the chops.
She and her husband were at home alone when the incident occurred just before 10 am.
It is believed that another of their usual arguments erupted and Romascindo attempted to run to safety but was attacked in the yard a few feet from a side door.
Stabroek News was told that Romascindo had been the victim of verbal and physical abuse for about six years. Her husband often accused her of being unfaithful and several months ago she was beaten. However, reports were never made to the police.
Days before Romascindo was killed, they had one of their usual quarrels and she moved out of the house, but returned the night before she was killed and all appeared well with the couple.
Romascindo was buried on Saturday while Deonarine's body is at the Lyken's Funeral Home awaiting a post-mortem examination.
Around the Web