Justice for All Party leader, CN Sharma, said an attempt was made to burn down his television station business after an unknown person severed the fuel line of his jeep that was parked in front of the Robb Street premises.
Stabroek News was told that an employee who usually drove the vehicle, PMM 8576, every morning to conduct office errands turned up for work around 7.30 am to find the hose cut and fuel beneath the vehicle.
Police were immediately informed and ranks later visited the location to conduct investigations. It is clear if security cameras at the premises picked up any suspicious movement.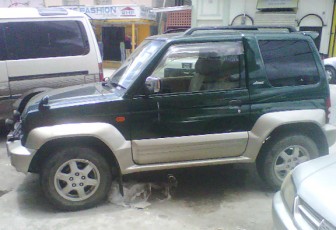 Meanwhile, Sharma in a press release said an attempt was made by "criminal elements last evening to set afire one of my vehicles parked outside of my business premises, CNS Channel 6, located at 43 Robb & Wellington streets. This was a sick act because if a fire was started it would have resulted in severe damage to my television station as well as my two vehicles, one being a Mini Pajero and the other a Prado which were parked alongside each other." The Prado vehicle was untouched.
The release said the hose under the vehicle that leads to the gasoline tank was cut causing the gasoline to leak and a small bottle was set just under the leakage, to capture the gasoline so as to start a fire.
"The evidence was clear that the perpetrator was not trying to steal gasoline from the vehicle, but was clearly trying to set a fire," the release said adding that the matter was reported to the Brickdam Police Station.
Sharma earlier, in an invited comment, told Stabroek News it was clearly an attempt to burn down his business. He said the perpetrator went to a lot of trouble to cut the hose which is about 1½ to 2 inches thick.
According to the politician after cutting the hose the perpetrator placed a bottle underneath and according to him, the apparatus was so set up that there would be an explosion.
"It's a clear attempt to shut me down. I know why and people know why," he said.
Sharma noted that all the fuel did not drain out as about half tank of gas was left. "If someone had thrown a match there, there would have been a big explosion," he stressed adding "Is no ordinary person do that. A sensible person went under there."
Around the Web