"Every time a pregnant woman comes to our clinic, every time everywhere no exception, she should have access to HIV testing and counselling and know her status," Minister of Health Dr Leslie Ramsammy said as he launched this year's National Week of Testing.
A ceremonial launching activity to mark the fifth year of national testing for HIV was held on Wednesday at the Linden Care Foundation, a non-governmental organisation that has been championing the cause of HIV/AIDS while providing care and support for persons living with and affected by HIV/AIDS.
Ramsammy was accompanied by Director of the National AIDS Programme Secretariat (NAPS) Dr Shanti Singh and other officials from the health care sector.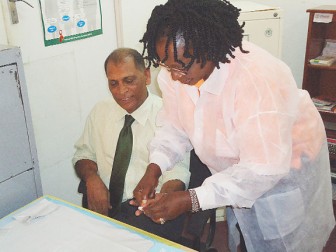 Ramsammy said that this year the mandate is to ensure that all pregnant women access counselling and testing to help Guyana accomplish its goal of eradicating Mother-to-Child Transmission by the year 2015.
Region 10 has played a significant role in the victory that Guyana is crafting against HIV. According to the minister, NGOs across the country have been championing the cause parallel to the interventions being made in the health sector.
"When the Linden Care Foundation was established in 2001 and we started working together we knew that this day would come, when we'd stop talking about HIV and start eliminating HIV," remarked Ramsammy. He spent time reflecting on the genesis of the fight against HIV/AIDS and where the country is now.
When the national week of testing was established five years ago a target of 1,000 was set for the expected number of persons to access counselling and testing; this was surpassed by 200. Last year's target of 30,000 was also surpassed by 5,771. For 2011, the ministry has set the ceiling at 36,000.
"We in Guyana have shown the world that we do not have to stigmatize HIV; it is for that reason we have been able to reduce HIV," he said.
According to statistics the prevalence is approximately 1.3% in the general population. Last year during the national week of testing the prevalence among the 36,000 who tested was 0.78%. Today treatment for HIV is available to all.
In line with HIV the Guyana strategy has now included checks for cancer, neuro-psychiatric illnesses, providing psychosocial support among other things.
Fingers were pointed at the challenges that are facing the Linden population in addition to the common chronic illnesses that are a result of the environmental climate. "We have the challenge such as the dust that has been a part of our environment forever and these are things that we would have to address," the health minster stated.
Voluntary counselling and testing were introduced in Region 10 in 2005 and since then over 15,000 persons have been tested. Those who were tested positive were enrolled in the care, treatment and support programme with a corps of trained staff and other personnel. VCT services are offered at four health centres, the three hospitals in the region; Kwakwani, Upper Demerara (Wismar hospital) and the Linden Hospital Complex. These services are also offered through community outreach and NOGs.
Prevention of Mother to Child Transmission (PMTCT) services are offered at ten health centres and the three hospitals. Youth friendly services of peer education are offered at five health centres. The chest clinic offers management and prevention of tuberculosis while the PMTCT which started in 2003 has recorded over 2,000 pregnant women being tested. Those found positive have benefited from treatment and care services and support and 86 infants have been placed on breast milk substitute.
Around the Web