Centenarian Ruby Sydney said she has lived a full life and never let an opportunity pass to learn a new skill, even as she looks forward to her 101st birthday tomorrow.
Ruby, a cheerful little lady, is one of the eldest residents at the Palms Geriatric Home. She is also the shortest and friendliest, warmly accepting a helping hand to a more comfortable seat during this reporter's visit. The centenarian told Stabroek News that the most important piece of advice she can offer to young people is not to waste time being idle, but to learn a new skill.
"Do not allow an idle moment to get the better of you," she reiterated, recalling that as a young lady she spent most of her years baking and selling goods, some to persons who resided at the Palms, which is now her home.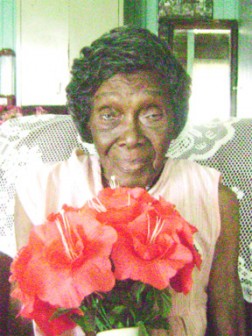 Ruby also recalled that she often travelled to Lusignan where she would occupy a spot at the market place to sell her cakes, buns and another favourite treat of the day- the collar. Many customers would a make a purchase to take home, but many others also bought, ate them right away. When all the goodies had not been sold, she would spend the weekend at the home of Teacher Babb, who taught her how to sew. She said back then teachers were strict and students had to be disciplined and respectful to all elders who often provided ways for them to occupy their time wisely.
Ruby is satisfied that she has never harboured a wasted a moment, filling her time with learning new skills. She said during her girlhood days in Buxton, she attended the Wesleyan School and enjoyed games such as rounders, skipping and hop scotch. "Sometimes," she recalled," the game was so attractive that some of the younger teachers joined in." Indeed, the delight such memories brought to her countenance told more than half the story.
After graduation, Ruby chose to become a part of the Creole Gang where she learnt to water and mould young sugar cane plants and watch them grow. She also remembers special moments such as the weeks of preparation that preceded the visit to Guyana of Princess Margaret, Queen Elizabeth and the Duke of Edinburgh.
However, she also fondly recalled the drums of Buxton telling one and all that "freedom will come to Guyana". Ruby said when August 1 was first celebrated as Freedom Day, the sounds of the Congo and Oku drums filled the air with the sounds of freedom.
Around the Web