A 13-year-old student of the Charity Secondary School was found hanging in the washroom of the school's dormitory yesterday morning, in an apparent suicide.
However, the parents of Kester De Agrella, of Karawab Village, in the Pomeroon River, said they do not believe he took his own life.
De Agrella was found hanging from the ceiling of a male washroom at the dormitory, shortly after 11.15 am yesterday. A shocked classmate made the discovery.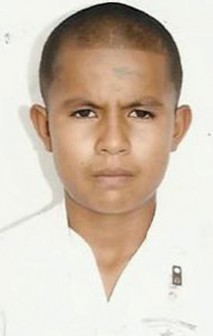 This newspaper was told by students that after the discovery was made, a teacher rushed to the scene and cut the rope from around the young man's neck while he was still breathing. He died shortly after.
The young man's parents, who travelled to the area after receiving the news, told this newspaper that De Agrella's death came as a total shock to them. His mother, Urani De Agrella, said that Kester, the third of her six children, never displayed suicidal tendencies and as a result his death left her puzzled. She added that the rope which was around her son's head was fastened around his ears and his chin and as a result she did not believe he committed suicide.
De Agrella's mother vowed to pursue the issue with the police.
Students told this newspaper that De Agrella had missed a social studies class before the discovery. They said that he was "dealt with" by the teacher of the class. Prior to that, he had been assisting other students in packing of books during the 10.30 am recess. Students said he appeared in good spirits and so they were shocked at his death.
Other students said that De Agrella was taunted recently and threatened by students who live at the school's dormitory, after he had informed the authorities that the males were taking alcohol into the facility.
The young man's body was taken to the Charity Hospital, where doctors pronounced him dead. His body is now lying at the hospital mortuary awaiting a post-mortem examination.
Around the Web