International cosmetics brand Garnier has provided sponsorship and is collaborating with organisers for Guyana Fashion Weekend (GFW) 2011 set for this weekend at the GCC Ground.
CEO of the gala Sonia Noel was given a sponsorship cheque valued $500,000 and ten hampers at a simple ceremony on Monday held at the Geddes Grant office, a press release said. In announcing the sponsorship, Suzette Shim-Prittipaul, Product Specialist of the Pharmaceutical and Personal Care Department of Geddes Grant, said that Garnier and Geddes Grant Limited were pleased to be associated with the event for the second time in its five-year history.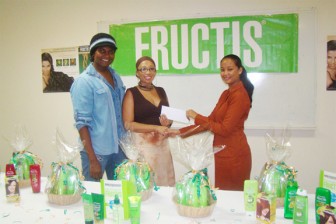 "Guyana Fashion Weekend has over the years created an avenue for young and seasoned designers and models to showcase their talents on the runway. Garnier has always been cognizant of this fact and is once again delighted to be part of this event," Shim-Prittipaul said. She also said that Garnier, a member of the cosmetics giant L'oreal, boasts effective and innovative beauty products that have been inspired by nature and that contain active natural ingredients.
In response, Noel expressed gratitude to both companies. She said she is excited that they have renewed "a very fruitful partnership."
Fashion Weekend is expected to feature local and other designers from Trinidad and Tobago, St Lucia, Barbados, Suriname and Jamaican with Guyana's leading models and make-up artists on show.
Around the Web