Seven persons have been left homeless after their 135 Silverballi Street, Meadow Brook home went up in flames around 13:30 hrs while two of the occupants were asleep.
According to reports, two-year-old Isaiah stood at the front door, screaming as he alerted neighbours of the fire while his aunts, Darlene and Diane Burnette, were asleep on the upper floor, where the fire allegedly started.
Speaking with this newspaper, a neighbour said that after he and a few other men heard young Isaiah's screams, they rushed into the house and managed to save three electric stoves and one refrigerator while the two women escaped.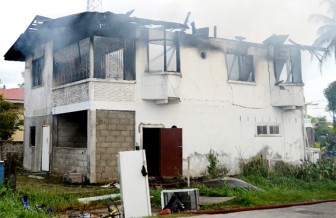 "Fire de tek over de zinc so how can we know where de fire start?" one man exclaimed.
Several persons stated that the fire fighters promptly arrived on the scene and managed to contain the blaze within half an hour.
When Stabroek News arrived, one of the two women remained in a neighbour's house and refused to comment while the whereabouts of the other was unknown.
Another resident, Yasser December, who was not home at the time of the incident, indicated that of the seven persons living in the house, 3 of them are minors, ages 4, 7 and 9.
It was stated that millions had been lost in damage although none of the residents were able to give an estimation.
Around the Web