The National Communications Network (NCN) has not instituted a total ban on Vybz Kartel's music but is in the process of streamlining a policy it has always had in relation to the airing of music, the station's programme manager  Martin Goolsarran says.
In a release sent yesterday, Goolsarran explained that NCN has "a long standing policy of not airing music that is of bad taste, promotes violence, offensive to any group, religion etc". According to him, the issue came up during a recent meeting where it was agreed that there be increased vigilance in monitoring of music and the need for zero tolerance on lewd and vulgar ones. "In this scenario, the music (lyrics) of Vybz Kartel was discussed."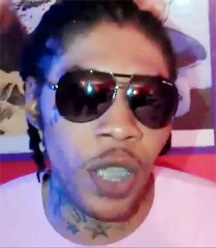 Goolsarran said it was unfortunate that the message was conveyed that NCN had decided to institute a total ban on Vybz Kartel.  "I wish to clarify that this is not so, as we were merely seeking to have the music policy confirmed with," he said. "It is not our intention to place a total ban on an artiste, but we reserve the right to deny air play to any piece of music or creation that violates the policy," Goolsarran said.
Around the Web