Slain Linden guard Adolphus James, 91, was laid to rest at the Bamia Cemetery on the Linden Soesdyke Highway yesterday after a simple but emotional service at the Mackenzie United Mission Church, where his family blamed his employer for his death.
James, of Yuraballi Street, Retrieve, Mackenzie Linden, was found dead at the back of the Consumers' Goods Complex building at Linden on September 12, 2011. The discovery was made by a female security guard who went in search of him after not seeing him in the guard hut.
It was believed that the elderly security guard might have tripped and hit his head on one of many cements rocks that were at the back of the building, however a post-mortem examination found that he was strangled and died of haemorrhaging in the brain.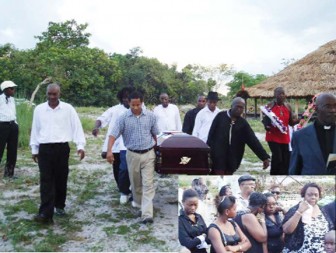 "Mr Forrester I spoke with you and I told you that I was mad with you and I want you to know that I am still mad with you and hope would are able to carry this cross," said one of the man's daughters at the funeral service.
The family is still to have a closed meeting with the security company boss and intends to engage the police at Linden for information as to the progress of the investigations. Family members said that the security firm cannot run away from responsibility, since they are convinced that the elderly James was left to work the night shift alone.
In a previous interview, owner of the Amazon Security firm Ewart Forrester had said he was surprised at the findings of the post-mortem exam.
He added that at the scene, there were no indications that the man might have been murdered. He had also said that the man was accompanied by other guards between the hours of 6 pm and 8 pm and again from some time after midnight to approximately 4 am.
Forrester, among others, spoke highly of James. He was described as the father, close friend and inspiration to his colleagues and others whom he came into contact with.
Director of the Consumers' Goods Complex, where the man was working at the time of his demise, said that he was very committed and thorough with his work. "Religiously, 'Daddy James' would check every door when he came on duty and if there was anything wrong he would wait until I come in no matter how late to give me the report," she said.
Despite his age, James was remembered by most persons as agile, with humility and passion for his work that outweighed his younger peers. He was employed with the Amazon Security and Investigation Services for over 18 years up until his death.
Around the Web