A fisherman lost his home on Wednesday night in a fire at Cove and John, East Coast Demerara that is believed to have been deliberately set.
Nandkumar Sarju, 34, is lodging with relatives after his one-room house at Oil Mill Road, Cove and John, was destroyed. A man, who is suspected to have set the fire, was said to be in police custody.
Sarju was not available for comment, but according to his cousin, Kishore, they had been drinking on the night of the incident. He said Sarju later left for home at around 9 and a short while after he saw a police vehicle speeding along the street, following which his cousin returned and informed him that his house was on fire.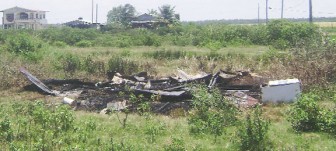 Kishore noted that Sarju did not go straight home after leaving his [Kishore's] residence. He made a detour to a friend's house nearby. He was unsure about the origin of the fire, but said it is believed that it was set by a man who previously stayed with Sarju.
He explained that whenever Sarju was at sea, a friend normally slept at the house. He added that the man, however, ended up breaking into Sarju's house on a few occasions when he had not been given access to the key. Sarju recently took back the key from the man, Kishore said, while suggesting that this could have been a motive for the man razing the house. He also said that one of Sarju's neighbours had reported seeing the friend at the house on Wednesday night.
This newspaper was told that the suspect was taken into custody.
Around the Web