The Rotaract Club of Georgetown Central organized a book drive to furnish the library of the Care Centre for Children as part of its observances for education month and international Day of Literacy held on September 8.
The newly established library will equip more than 40 children with basic reading material and text books to enhance their reading and communication skills. The club hosted the drive through its 'International Service Committee' under the theme 'Give a book to unlock a thought', it said in a press release. It noted too that the exercise was possible through support from the Demerara Tobacco Company, the Georgetown Reading & Research Centre, Austin's Book Store, rotaractors and the public.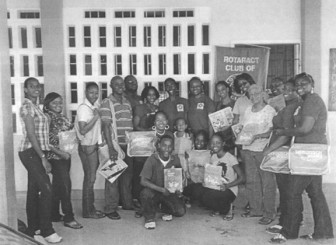 On September 10,  sister club Rotaract Club Genesis from Suriname in collaboration with the Rotaract Club of Georgetown Central, through its annual international exchange project, donated a number of school supplies, professional grade books and exercise books to 30 children of the Rotary Georgetown Central Sophia reading group. Similar donations were also made to five children at the Care Centre for Children located on Hadfield Street. This exercise was conducted under the theme 'Reaching out a helping hand for a better tomorrow.'
Gerron Parker, director of the Rotaract Club of Georgetown Central's International Service Committee is incorporating this theme into plans for the local club's return visit to Suriname in November to execute a similar community service project.
Around the Web