Better Hope resident Rosaline Lloyd was grazed by a bullet as she crept to shield her sleeping children, in the middle of a shootout between police and vandals early yesterday morning.
Lloyd, 43, was treated at the Georgetown Public Hospital for the wound, which she sustained when police traded fire with three men who had been stealing copper wire in the area. At the time she, her husband and two of her five children were also in the house. The bullet grazed Lloyd's head and doctors told her that she was within an inch of certain death.
The theft of about 240 metres of the copper wire resulted in a disruption to 500 landline customers.  A quantity of the stolen cable, valued at $1M, was recovered, while several persons were arrested, including one of the vandals. However, the police were criticised for engaging the men in the populated area, where residents said that they were all placed in danger.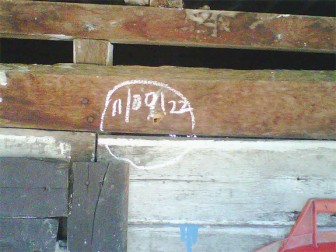 The incident occurred at about 5am, when police ranks responded to a report that three men were seen stealing copper wire at Better Hope, South, police said in a statement. As the police patrol approached the men, "they came under fire and they returned fire during which they managed to arrest one man while the other two escaped."
At about 5:50am, Lloyd reported to the police with a wound to her head and stated that she was in her home when she heard what sounded like gunshots and felt a burning sensation to her head, police added.
Based on the accounts of residents, when the police turned up at Third Street, Better Hope, South, the perpetrators fled leaving behind a donkey cart with the telephone cable. They had apparently gone into the area to steal more.
Ranks subsequently pursued the men, who were jumping fences. One was caught and identified himself as a resident of Vryheid's Lust, East Coast Demerara. Stabroek News was told that the young man later led police to several accomplices living in Better Hope and Plaisance.
When Stabroek News visited Lloyd's house yesterday, the bullet holes had been marked by police.
Lloyd's daughter, Litisha, told this newspaper that the woman had gone to police headquarters, Eve Leary, to lodge a complaint. Litisha, who lives three houses away from her mother's Lot 146 Fourth Street home, said she was awakened by the sounds of running from the upper flat of her house, where another family resides.
"I peep out to see, 'cause I seh is fight, and when I open de door and I go out one of my cousins tell me how me mother just get shoot in her head. I was in shock," she said, while adding that she ran to her mother's house in a frantic state. When she arrived, she saw Lloyd standing on the roadway in front of her home with her head bandaged.
Litisha said that based on the accounts given to her, her stepfather heard the gunshots and he jump up shouting "bullet, bullet." She said that the man alerted Lloyd and turned off the lights in the house. Her mother, she added, decided to go to a back bedroom to instruct her children to stay low. However, as she was nearing the room, in a crouched position, the bullet struck her. No one believed she was shot until they saw the blood, Litisha said.
The upset young woman noted that the doctor who treated Munroe said that "one more inch, it would have killed her."
The bullet that struck the woman passed through two outdoor latrines then the northern wall of her house, grazed her head then passed through another wall before damaging a television set, this newspaper was told.
'People coulda
been killed'
After being treated at the hospital, Lloyd made a report to the police and returned home. However, a police rank, who lives at Fifth Street, Better Hope, and his brother visited her house and verbally abused the family, according to Litisha. She explained that he claimed that people were accusing him of firing the bullet that struck Lloyd. "He start cussing up and behaving bad and that how no body can't do he nothing and how he gon' throw the whole law book at us and his brother come railing up," she recalled, while adding that the brother chased her  step father, Lloyd's husband, with a wood.
Litisha said that the manner in which police attempted to capture the men was cause for concern. "What I saying is that she coulda dead. Police were reckless. They ain't supposed to be shooting like that, 'cause me lil bother could have been up," she stressed. She added that residents would usually get up around the time the shooting occurred to prepare their children for school.
"This is the time when people does start getting up, they can't deh firing shots wild. They suppose to at least run behind them 'til they get a clear shot not where they got houses," she added.
Another resident, Mala Jacobs, noted that children could have been seriously hurt, while pointing out that there are many children living in the area. "I think they shoulda do something betta. You can't deh chasing people and deh shooting wild because innocent people gon get kill," she said.
Meanwhile, residents of Third Street, where the shooting started, recounted that it was like they were in the "wild, wild west." One woman said that she heard the gunshots and immediately crawled under her bed. She added that the gunshots were so many it was hard to count and later, when she inspected her bedroom, she discovered that a bullet had passed through her bedroom wall. "Yuh ain't see how I coulda dead," she said, while noting that the bullet also damaged a light which Guyana Power and Light company officials had to fix. She noted too that the damage to the light could have resulted in a fire.
Another resident said that after he heard the gunshots, he peeped out and saw a man in his yard. He said he shouted at the man, telling him that he can't be in his yard and the man then jumped over the fence and disappeared.
All the residents Stabroek News spoke with agreed that the police acted unprofessionally and placed them all in danger. "What de police do was wrong. If they had cooperated with citizens they woulda catch them boys," a resident said.
'Copper thieves'
GT&T has fallen victim to copper thieves for many years and despite efforts to tackle the problem it still continues. Residents told Stabroek News yesterday that twice last month, copper thieves struck in the area. On one of those occasions they escaped with the length of cable between two lantern posts.
A resident said that the thieves come well equipped with ladders and would use them to climb the poles and cut the cables. He noted that on the previous occasion, it took more than a week for his telephone service to be restored.
When contacted, GT&T's Chief Executive officer Yog Mahadeo acknowledged that he was aware of the theft and that several persons had been apprehended after the Better Hope incident. He explained that the approximately 240 metres of cable was removed, resulting in the telephone service to 500 customers being affected.
Mahadeo pointed out that there is a need for citizens to be vigilant, adding that the company has been receiving good support from the police in tackling this issue.
He also emphasised that the issue was not only about the theft of cable, but also about the disruption of service to customers. He said often technicians cannot respond to faults and have to install new lines because they have to tend to the effects of vandalism. He said that at the moment there are more that 1000 customers in that area who have applied for telephone lines and the theft would result in a delay in dealing with them. One of the effects of vandalism is the backlog, he said.
Mahadeo also told Stabroek News that only a month ago he had reported that there were about sixty disruptions due to vandalism over a 90-day period. He urged all citizens to contact the company on the 24-hour hotline 0488 to report cases of vandalism.
Around the Web