Marian Academy students on Wednesday participated in a number of activities advocating for a more peaceful community during observances for World Peace Day—efforts the school said have been included in its curriculum since its establishment.
In a press release, the school said its students sang, gave dramatic performances, recited poetry and said prayers during the observances. And, in keeping with its tradition of planting a 'Tree of Peace', a symbol of being in harmony with nature, students planted the local species of cherry trees to support efforts to promote healthy lifestyles and to encourage persons to eat more fruits.
Since its establishment in 1998, Marian Academy has been an active steward for peace and has conducted a number of activities in this vein through its Peace Education Programme which is incorporated in its curriculum. In her feature address, parent and Coordinator of the Journalism Club Riane de Hass-Bledoeg said the school's  continuous and consistent labours in this regard is in keeping with its efforts to prepare students for their roles as peace advocates, peace makers and peace keepers.
Focusing on this year's theme for World Peace Day, 'Peace and Democracy: Make your voice heard', de Hass-Bledoeg highlighted the need for non-violence in the context of daily interactions of persons to set the foundation for a more peaceful world. She opined that without peace Caribbean nations cannot realise their potential and, in this regard, noted the importance of building awareness of the need for the peaceful resolution of conflicts and disputes.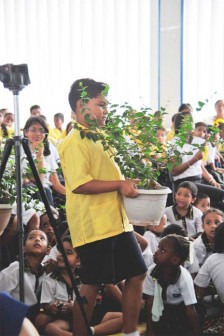 The United Nations established World Peace Day in 1981 and it is observed annually on September 21 worldwide. Marian Academy said this occasion is one of the most important events on its calendar and this is the ninth year it has celebrated it. The Marian Academy Environment Club organises the event with the active involvement of all levels of the school community.
According to the release, Marian Academy is the first community in Guyana to establish a Peace Pole in four languages, making Guyana the 181st country, in 2002, to join the Global Peace Pole Project. To date, it is the only local school registered with the Environment Online (ENO) Plant-a-Tree Network and, since 2005 has kept the tradition of planting trees on September 21.
One of the coordinators, Sister Shelly Jhetoo said the school is committed to contributing to a culture of peace and aims to teach its students to live lives based on peace, love, care and respect for each other. In addition, this year  the school initiated a Peer Education Programme under the theme 'Each One Help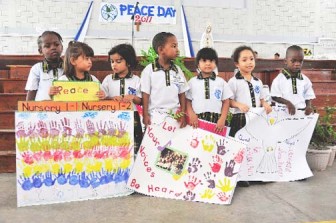 One,' which provides teens with knowledge and skills to effectively help their peers to deal with challenges that may distract them fro have a positive learning experience in school. "Peace is considered the essence of all that takes place in Marian Academy," the release said, adding that this is realised through the school's outreach activities in communities.
It also hosts reflection days, during which they are guided in reviewing their inner-selves, its Annual Blood Drive, distribution of food and other supplies to the poor, protection of and promoting care for the environment, encouraging youth to express themselves and guiding aspiring journalists in applying the code of ethics in their expressions.
Around the Web