A United States-based woman who was a passenger on the Caribbean Airlines jet that crash-landed at the Cheddi Jagan International Airport, Timehri on July 30, is too traumatized to travel back home.
Geeta Ramsingh, 44, of Philadelphia told Stabroek News that she is unable to get over the tragedy and had to cancel her flight which was scheduled for August 29.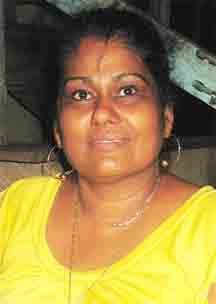 She keeps remembering the crash which resulted in the Boeing 737-800 plane breaking in two. She also imagines that it would happen again while she is "travelling back" and is "scared."
Ramsingh had to be admitted to the Anamaya Memorial Hospital for three days because of her traumatised state. Subsequently, she was readmitted at the hospital, this time for a mosquito-borne illness.
She is also under psychiatric care and noted that "not everybody can deal with stress in the same way."
The woman is grateful for the care and attention she has been receiving from the staff of Caribbean Airlines. They have also paid her hospital bills.
According to her "they have been there for me… they are very concerned." They had even visited her in Berbice to provide counselling and also advised her that she was "not capable of flying as yet."
Ramsingh said the experience was difficult for her to deal with because she was travelling alone. One of the counsellors of Caribbean Airlines has promised to accompany her when she is ready to go back.
The Flight BW 523 which left New York with 157 passengers and six crew members crashed around 1.25 am. It had made a stop in Trinidad.
Several passengers were injured but luckily there were no deaths.
Ramsingh, who is staying with relatives at Rose Hall Town, Corentyne said since she left Guyana at the age of 12 she returned on many occasions but never had this kind of experience.
Recalling the events of that day, she told this newspaper that about 10 minutes before the crash, the pilot announced as they were descending that "we were above Guyana… and we were very happy."
The plane then landed suddenly and she realized that "it was not the way it was supposed to land… it was an impact landing." Even so, passengers started to applaud because they thought that at least it had landed anyway.
But their happiness was short-lived and they were not prepared for what happened next. "After it touched the ground it took off back… because like it misjudged the runway… and it landed again with a greater impact and everyone started to scream."
According to her, "It happened so fast. We didn't even have any time to bend our heads into our knees. The pilot did not say anything either."
The next thing she knew was that "the plane broke in two and I smelt fluid. I was sitting right behind where the plane broke off… and then the ceiling fell on my head."
Fearing that the plane would "blow up," Ramsingh "did not want to take any chance" and headed to the exit. She got on to the wing of the plane and was the first to jump off, injuring her knee in the process.
But just when she was starting to feel relieved that at least she was out of the plane, a man "three times my size landed on my back, then he called his wife to jump."
By then other passengers also started to clamber out in the darkness.
Ramsingh was disappointed and upset that no emergency system was in place and that "no one came to rescue us…"
Then when a taxi pulled up and the driver told her he would take her to the terminal she immediately jumped in, only to be told during the ride that it would cost her US$20.
She was disappointed that in an emergency the driver charged her for the drop but she paid anyway.
Meanwhile, the authorities later turned up and struggled to remove the other passengers from the plane amid poor lighting and a lack of emergency equipment.
In a statement shortly after the incident, Caribbean Airlines had said that it had "immediately activated its emergency response programme" and was in "direct contact with the relevant authorities."
Around the Web