For relatives of Navin Serrao who was pumped full of bullets during a drive-by shooting on Thomas Lands in June 2007, the motive behind his death will always be a mystery even though police had said there was a drug link, a statement which they had repeatedly denied.
Four years later not a shred of evidence of this so called drug link was produced nor was a suspect ever identified. The accusations, the passage of time and little information from the police have left the young man's family certain that they will never get justice.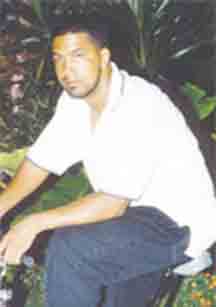 A police official told this newspaper that even though so much time had passed, relatives should not get frustrated and give up hope. According to the officials, there is no new information in the case but the investigations are continuing. Like many other 'cold cases' police are depending on public information to find new leads.
On the night of June 7, the former Hadfield Street resident was driving his friend's Toyota 212 car. He had just picked up the friend's mother from her home in Kitty and was driving west along Thomas Lands.
A car, still unidentified up to this day, drove alongside him and gunmen started shooting at Serrao. This was around 8.50 pm. He died from several gunshot wounds to his head, neck, hands, arms and chest before reaching the Georgetown Hospital.
Mere days after the killing, acting Police Commissioner Henry Greene had commented that he believed it might be linked to some drug deal. Greene's comments had left Serrao's relatives furious and they had insisted that the police should do thorough investigations before making such pronouncements.
Recently an emotional Rihana Moore, Serrao's sister spoke with Stabroek News. She like many others in similar situations told this newspaper that tears still flow. She said that the incident is still fresh in the mind of her mother, Debra, who is trying very hard to cope with the situation. "She has to cope. She still cries and I still cry. Four years after it is still very fresh. It's like it happened last night for me," the woman said fighting back tears.
She said that since the incident, the family has heard nothing from the police which she expected. "I expected this because there are a lot of unsolved murders right now."
Recalling the events of that night, she said that she was at home when she received a telephone call around, 8:30 pm that "Navin was dead." It was his friend's sister who had telephoned her, Moore said.
"I was in a state of shock. I was running up and down the house crying and then we got into the vehicle and when we reached the hospital he was already taken to the mortuary and officials told us that we could not see him until the next morning. I didn't sleep all night I was in a state of shock," she told Stabroek News.
Moore said that at the time of his death, Serrao was dropping his friend's mother home. She said that her then 27-year-old brother was that family's (the friend) chauffeur.
Drugs link or
mistaken identity?
Greene's drug link theory had sparked outrage among Serrao's relatives. Moore told this newspaper during the interview that she did not know her brother to be involved in any illegal activities prior to his death.
"Mr Greene he said that it was linked to drugs… I don't know how to assess that. In a sense the statement shocked me but then if he could have said something like that then maybe he knew what he was talking about," she said.
She added too that after so much time police should have produced a piece of evidence to prove what they were saying was true but instead they have chosen not to. This she said has left the case at a stage where it is unsolved and "we haven't heard back anything since."
The woman said that she could not say if the case will ever be solved.
In October 2008, Debra in a letter to this newspaper had said that "If the police can make these allegations they should know who to pull in for investigations or interrogation." The letter stated that there was an eyewitness who was in the car with him and she was unhurt. "From what I know of her she was in shock and could not give a statement. Also she is a sickly person, and I feel she was threatened to keep quiet," it added.
According to Debra, she was suspicious that Serrao might be having problems since a few months before he was killed, he called her to ask for money to pay down on a car, "but I couldn't help him because I had a huge dental bill to pay off. I asked him if he was in trouble, but he said he was okay, but that he wanted his own car, because he was fed up of working for people.
The woman added that his sister was also trying to help him by putting up her house for sale and was to give him some money to buy the car, but at the same time she was concluding a sale he was killed.
"It was such a shock to us that when his dream was to be realized he was so tragically gunned down. We can't come to grips with our loss up to now and we are pleading with the police to please conduct proper investigations so we can get justice.
"I know my son was not involved in drug dealing, because he doesn't have anything in his name and he wouldn't be asking us for money to buy a car. The police should be intelligent enough to know this," she had said.
There was also speculation that it was a case of mistaken identity.
Moore like her mother pleads for justice: "Whoever did it has to live with that. They have to live with it while the family still grieves."
Around the Web