The body of a technician was fished out of a creek at St Cuthbert's Mission yesterday after he reportedly drowned but family members have suspicions about the manner in which he met his death.
Dead is Paul Bahadur, 26, of Diamond New Housing Scheme, East Bank Demerara. Relatives said that his face, back and hand bore some suspicious marks and are calling for a full investigation by police. Bahadur went missing after he went on a trip with friends to St Cuthbert's Mission on Saturday but his family was not notified until yesterday and they were later told that he drowned.
Bahadur's sister, Christina Toolsie told Stabroek News that a friend of her brother came to pick him up at the home at about 11.30am on Saturday. His stepfather, George Carmichael said that he told him that they were going to have lunch. They did not see him again. Christina said she tried calling her brother on his cellular phone later in the afternoon but did not get through.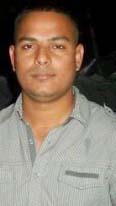 Yesterday morning, Christina said, her brother's girlfriend called and asked if he was home. Christina said that she told the girl that he was in the bedroom but the girl insisted that she check. Christina said when she went to check, he was not there. She said that the girl called again and told them that he was missing and the police had gone to look for him. She later called and told them that he was dead.
Relatives said that they were not able to get details on what happened and a cousin who spoke with the friends that Bahadur was with said that they gave differing versions. Carmichael said that his stepson did not know how to swim and would not have gone in deep water.  Relatives questioned why the friends did not inform them that he was missing and why a search was not carried out immediately. One also said that the area where the incident occurred is close to the village. "Nobody ain't call us. Nobody ain't tell us nothing," Christina said.
The police have not detained anyone and are awaiting the results of a post mortem examination today. "It hurting me bad cause I lost his mother five months back… she give her kidney to her nephew and she died five months back," said Carmichael.
Bahadur worked at the Princess Hotel Casino as a technician. He is survived by two sisters, two brothers and other relatives and friends. He was a "real humble person" and was "very quiet," Carmichael said. Police investigations are continuing.
Around the Web