Four young men were hospitalized yesterday morning after the car they were in collided with a utility pole on Homestretch Avenue breaking it into two, and then continued another 100 feet before coming to a halt.
Daniel La Rose, 14, of 88 Duncan Street Campbellville; Odel Williams, 19, a soldier of 21 Alamanda Avenue, Bel Air Park; Travis Wilson, 21, of 42 John Street, Campbellville; and Shaquil Punche, 16, of 50 Hadfield Street, Wortmanville were all admitted to the Georgetown Public Hospital. The fifth occupant of the vehicle, Cleveland Benn, was not hospitalised.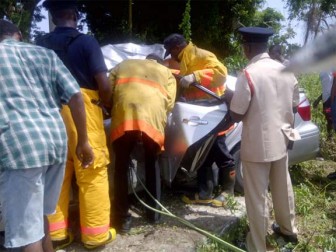 There was some uncertainty about who was driving the Silver Premio, licence plate PNN 3674, although the vehicle's owner who was not in the car at the time told Stabroek News that his cousin Cleveland Benn was responsible for the car and had been driving it when it crashed. "The youth man now get he license and feel he can do what he want," he said.
A hospital source claimed however that one of the passengers had said Benn was not at the wheel when the vehicle hit the pole. Relatives of the injured at the scene informed this newspaper that they were unclear about who was driving at the time of the accident.
Benn had reportedly left with the intention of taking the vehicle to the car wash but instead used the opportunity to "joy ride with his friends," a relative said. He was not admitted to the Georgetown Public Hospital with the others.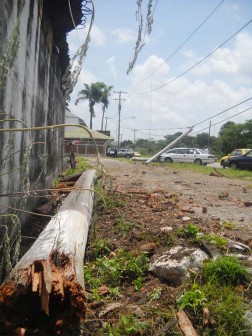 When Stabroek News arrived on the scene around 10 am, two of the backseat passengers were still trapped and were awaiting the arrival of police officers and assistance from the fire service.
When members of the fire service appeared on the scene about 10 minutes later, it took approximately 30 minutes to free one man, and about 50 minutes to rescue Wilson. After being placed on the stretcher, Wilson's left knee could be seen to be twisted and he cried out in pain.
The man's mother was unable to contain herself after seeing her son in that condition and wept uncontrollably. The woman passed out several times prior to her son's rescue.
Around the Web