Guyana's President, Bharrat Jagdeo on Friday called on the newly appointed
Managing Director of the International Monetary Fund (IMF), Christine
Lagarde, to support the fight against climate change by leading a shift
away from traditional instruments of overseas development assistance.
Meeting on the sidelines of the World Bank/IMF annual meetings in Washington
DC, Jagdeo, according to the Government Information Agency, urged Lagarde
to support a shift to a new mindset in thinking about climate finance.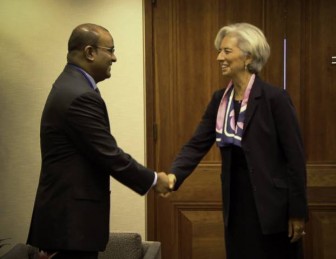 He said that developing countries are losing confidence in existing
institutions, whose prevailing financing instruments are not suited
for addressing the challenges associated with climate change.
GINA said that Jagdeo further emphasised that it would not be difficult to
create the required instruments, and that this could be done without
compromising environmental and social safeguards and fiduciary standards. 
According to GINA, President Jagdeo also raised the issue of the high levels
of public debt in many Caribbean countries, and urged the IMF head to consider debt relief
for middle income countries. Guyana also has significant public debt.
GINA said that Jagdeo noted that many of the small island countries in the Caribbean are dependent
on few economic sectors, and are highly vulnerable to shocks.
Jagdeo emphasized the key role that debt relief from the IMF played in
Guyana's own history.
Jagdeo was joined at the meeting by Finance Minister Dr. Ashni
Singh and Central Bank Governor Lawrence Williams.
Around the Web