The mentally ill woman who is accused of slashing the throat of a 39-year-old father of two has been taken into custody by the police.
According to a press release from the police, the suspect was arrested yesterday morning at about 07:00 hours at Oil Mill Road, Cove and John, East Coast Demerara.
Sheriff Balmacoon, of Lot 16 Section C, Clonbrook, East Coast Demerara, was attacked while he made his way home on Saturday evening last around 9.20 pm. The man's throat was reported to have been slashed and he also suffered a stab wound to the chest and several to the back.
It is alleged that the woman fled the scene with the knife in her hand.
The dead man's wife Angela, from whom he had been separated from for four years, yesterday conveyed her relief that the suspect had been caught by the police.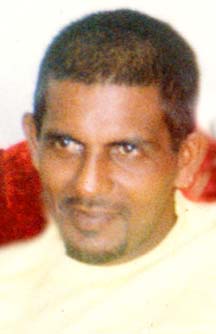 The woman explained that all of her husband's family had migrated and he too was waiting for his final documents to be processed before leaving for the Unites States next year. "They sponsor he and he was going with me and our 2 children," she said, noting that they were still legally married although they have been separated.
"We married 17 years and I see him every day… every morning," Angela said in a sombre tones.
Sheriff was a mason but his wife stated that since their separation, he had not been working and spent most of his time at the liquor shop.
The woman said that their 15-year-old daughter had not been handling her father's death very well: "She see him pull his last breath… it's not easy for her."
"The girl liked the father more… she didn't sleep one second last night," she said.
The post mortem, Angela said, is expected to be done today but funeral arrangements have not yet been made as the family is awaiting the arrival of the man's overseas-based relatives.
Around the Web