The curtains came down on Guyana's biggest and most anticipated fashion event on Sunday evening last after offering patrons an opportunity to view the work of some of the best local and regional designers, an experience they will not have again until 2013.
The Guyana Fashion Weekend commenced on Friday, August 23, with the organizers commemorating the United Nation's International Year of People of African Descent and International Year of Forests.
The venue welcomed with its bamboo and vines at the entrance and patrons were later greeted by bright lights and flashing cameras on a red carpet where they could have their photographs taken.
With a cast of 40 designers and 100 models, there were pieces to suit the personality of every individual in attendance, whether sassy and flirtatious or casual and conservative.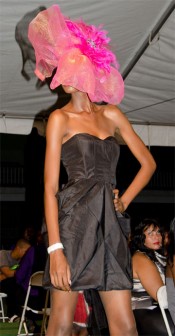 Not only were there stylish clothing on display but swimwear, head pieces and handbags as well. Carl Brown out of Jamaica showcased some very creative hats and even had his pieces accessorize the Karen Joseph-Ross 'Sheer Designs' line.
Patricia Helwig also revealed her talent in head-wrapping with a line called 'Ethnic Fusion' and it was noted that her inspiration comes from a background of mixed culture.
Using subtle colours, Marcie Desantos creatively put together pieces that awed the audience and was definitely a crowd pleaser, once again. Participating in GFW for the first time in 2008, Marcie walked away with an accolade for 'Most Promising Designer' and has since been determined to live up to that title.
Neilson Nurse, who last year copped the title of best upcoming designer, once again, blew the minds of many with his aptly named swimwear collection 'Exotic'.
Olympia Small Sonaram's line which was saved for last and had every curve on a woman's body unveiled and perhaps even excited the patrons more than they should have. It would seem that the jaw-dropping pieces were unexpected as many were seen with extremely surprised appearances. Olympia was honoured earlier on in the show for her contribution over the past five years to GFW, along with Richard Young who was presented with the Fashion Icon Award and entities such as Rent-a-Tent and the National Communications Network. In addition, special mention was made of the Minister of Amerindian Affairs Pauline Sukhai, Presidential adviser Odinga Lumumba and Dennis Dias of D-Designs.
Some familiar faces were seen traversing the runway such as Miss Guyana Universe 2011 Kara Lord, Miss India Guyana 2011 Roshini Boodoo and Miss Guyana Jamzone 2011 Jovan Wilson.
Speaking with some of the designers backstage, this newspaper was told that the show skyrocketed beyond their expectations.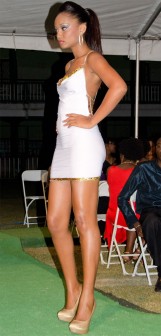 Mwanza Glenn, who showcased his line 'Outside the inside of Africa' on Saturday night, described the experience as tiresome but beautiful in the end. "The months and the weeks and the minutes and the time and the hours you spend to get this right, to get everything intact and then, as a designer, it's just a 5 or 10 minutes moment where by the audience can appreciate what you've done," he stated, adding that it was a good opportunity.
Also speaking with Stabroek News was Louis Jordan who participated for the first time in GFW. He explained that because there were designers of different age groups and also coming from varying backgrounds, a unique flare was added.
"We all have a different style, a different craft and a different way of presenting our work," he noted after which he explained that his entry was based on being afforded an opportunity to introduce his line to the Guyanese public.
Most promising designer of 2010, Neilson Nurse, said he felt pressured to do just as well or better. Nurse shared the view that the show was great.
Meanwhile, NY-based designer Sazi Rahman was disappointed in the feedback received and indicated that Guyana's fashion as compared to that of New York is very different. "I met a lot of creative people here but my designs are more on the conservative side and I believe people in New York and all over the world react differently," the Fashion Institute of Technology graduate noted. Overall, she said, the experience was great.
When this newspaper caught up with Chief Executive Officer of GFW, Sonia Noel, it was disclosed that Fashion Weekend will not be held in 2012 but in 2013 instead.
"In the two years we are going to work with the Diaspora and other areas where we can come back and benefit the industry," she said.
With regard to this year's event, Sonia said some of the collections were really long but were very impressive. "I think GFW now has given promise to so many young and upcoming designers. You can't just have all seasoned designers up on stage because if you do that who is going to see the ones that are coming up. So I think GFW 5 definitely afforded the young and upcoming designers the opportunity to showcase," she explained.
She also disclosed that in her opinion, Ryan Berkley stood out. "The creativity, the energy, the cohesion of his line, I was totally blown away," she said.
Around the Web