A post-mortem examination conducted on the remains of 26-year-old technician Paul Bahadur revealed that he died by drowning.
The young man's body was fished out of a creek close to St Cuthbert's Mission on Sunday after he went missing on Saturday afternoon.
His sister Alicia Bahadur told Stabroek News yesterday that the examination was done yesterday morning and it confirmed early reports that the young man may have drowned. She said too that the marks which were visible on her brother's body may have been caused when he fell in the water.
She noted that her brother's sudden death was shocking and memories of him will remain in the minds of his many relatives and friends.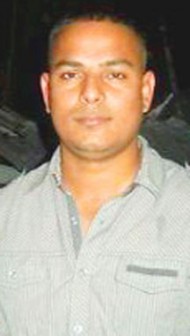 Paul, who lost both of his parents, including his mother earlier this year, travelled to the Amerindian community with friends and relatives on Saturday and relatives became worried when calls to his phone went unanswered.
His relatives became concerned and they were told several hours after by his girlfriend that he was missing and that the police were informed.
The young woman later called the family and informed that he was dead.
Bahadur is survived by his four younger siblings and he is expected to be buried on Saturday.
Around the Web