The Ministry of Foreign Affairs said this morning in response to Venezuela's statement on Guyana's submission of a claim to an extended continental shelf, that under cover of a Note Verbale, the Venezuelan Embassy here had been provided with a copy of the information Guyana submitted in its claim since May 2009, except for adjusted coordinates for the outer limits of the shelf which was based on seismic data obtained after that time.
On September 6, Guyana submitted a claim to an extended continental shelf to the Commission on Limits of the Continental Shelf under the UN Convention on the Law of the Sea (UNCLOS). According to the Venezuelan government, Guyana's Ministry of Foreign Affairs gave official notification of the submission the following day.
The Venezuelan Government had issued a statement yesterday in which it said it had started to "assess this irregular situation" and was taking the necessary action to preserve the law with respect to its "maritime façade."
The vital interests of the country would be defended in a resolute manner by means of internationally established mechanisms for dialogue, the Venezuelan statement said, reiterating the Venezuelan government's commitment to the Good Offices Process of the United Nations Secretary General.
The local Foreign Ministry's statement this morning said Guyana notes that the Good Offices Process has a clear mandate as stated in the Geneva Agreement of 1966. It added, however, that the Good Offices Process "relates exclusively to the resolution of the controversy that has arisen from the Venezuelan contention that the Arbitral Award of October 3, 1899 that definitively delimited the land boundary between Guyana and Venezuela is null and void."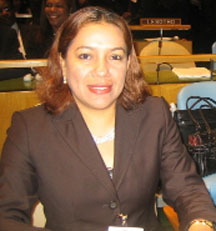 The Venezuelan statement yesterday said: "The Bolivarian Government of Venezuela, acting responsibly, has begun to evaluate this irregular situation [Guyana's claim to an extended continental shelf] in order to give a proper response  in the context of International Law and is taking the necessary action to preserve the law in respect of its maritime façade."
The Venezuelan government noted that its statement did not seek to prejudge the issues relating to the determination of the maritime boundary between Venezuela and Guyana, but expressed its concern that the Government of the Cooperative Republic of Guyana had not previously informed Caracas about its submission to UNCLOS, despite the fact that avenues of communication were available, such as the Good Officer or the bilateral commissions.
In response, Takuba Lodge said the Guyana government "wishes to state that as was made pellucid in Guyana's submission to the Commission on the Limits of the Continental Shelf, Guyana's submission of information and data pursuant to Article 76 of the [UNCLOS] is without prejudice to any future maritime delimitation exercise with neighbouring states."
According to the Venezuelan government statement that country had "developed from day one, a foreign policy based on the defence of the sacred interests of the motherland, at the same time consolidating friendship and solidarity with the Latin American and Caribbean peoples and with special emphasis on the Co-operative Republic of Guyana, a country with which there is a territorial controversy inherited from the old colony."
The release made reference to President Hugo Chávez, who it said had implemented the correct policy of peace, sovereignty and respect for international law in relation to Guyana. This was in contrast it went on, to the old warlike attitude and threats from the Venezuelan bourgeoisie, "whose only objective was to provoke the progressive governments of the sister republic in conformity with the designs of the centres of imperial power."
The Venezuelan government, the release said, "rejects the campaign of intrigue that the Venezuelan bourgeoisie has unleashed by means of its propaganda and political parties which seek to manipulate the Venezuelan people who are uninformed about such a sensitive topic… that bourgeoisie is subject to the mandates of Washington and is financed with money from the empire."
In conclusion, the Venezuelan government expressed "its maximum willingness" to build constructive relations with Guyana, but confirmed it would continue to defend the "vital interests of the country in the most resolute way through internationally established dialogue mechanisms. In this regard it reiterates its commitment to the process of the Good Offices of the United Nations Secretary General."
The Guyana government said it also values the relations that have developed between Guyana and Venezuela in the recent past and it was in that context that it shared the information in May 2009 as well as its full submission this month. It added: "The Government of Guyana reiterates its interest in the development of continued harmonious relations with the Bolivarian Republic of Venezuela and anticipates that since [its submission] is without prejudice to future maritime delimitation exercises with neighbouring states whether within or beyond 200 nautical miles, this issue would not be allowed to adversely affect the exceptionally good relations that exist between Guyana and the Bolivarian Republic of Venezuela."
Around the Web