Minister of Local Govern-ment Norman Whittaker raised a number of concerns with the Linden Town Council including its failure to submit its budget for the year, during a recent outreach exercise.
According to a Government Information Agency (GINA) press release Whittaker said he thought it vital to engage the council, soon after his appointment to the post. He said he aims to interact with the various RDCs and NDCs to address the challenges and concerns in the different areas.
He said the ministry is concerned about the lack of communication between the council and Linden residents, noting that this has serious repercussions on the delivery of services. "Another area of concern is the obvious domestic rambling inside the Linden Town Council which has been interfering with its functioning and also with the delivery of services," the release quoted him as saying. It noted that to date the council has failed to submit the 2011 budget to the ministry for its capital work.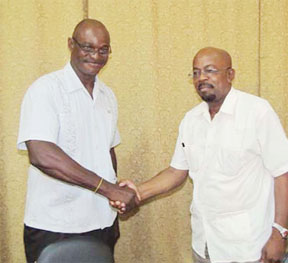 Linden Mayor and Town Council, Chairman of the Interim Management Committee Orrin Gordon said the council was only able to collect about 30-35% of its rates and taxes which has resulted in the non-payment of wages and salaries at times. Gordon also said employees are poorly paid – most receive below the minimum wage – and despite their posts they were lumped at one salary level.
Gordon also said Central Amelia's Ward which boasts about 2,000 new home owners, has not been handed over to the municipality but residents expect it to provide services. "The area must be transferred to the municipality, so that it can start collecting rates and taxes from residents," Gordon said.
In response Whittaker said low collection rate has been a resounding complaint in all the municipalities and he suggested that "certain courses of action" must be taken with the expectation that it will increase.
He said the council can take a similar route to the debt recovery section to aggressively pursue and reach debtors and provide them with initiatives to pay their debt such as amnesty on the interest rate incurred over the years on overdue taxes. He also said his ministry has submitted a proposal to Cabinet seeking a salary increase for its organs with a proviso that the individual municipalities must have resources to pay and sustain the increase.
Regarding Amelia's Ward, the minister said he will bring the issue to the attention of Minister of Housing and Water Irfaan Ali as it falls within his jurisdiction. He also committed to providing an update to the council during the week.
Whittaker has recently engaged officials and residents of East Coast NDCs including Cane Grove, Buxton-Foulis, Enmore-Hope, Golden Grove-Haslington and Unity-Vereeniging.
According to GINA, he said it would have been remiss of him to make decisions impacting residents' living and working conditions without first interacting with them about issues affecting them.
He noted that the ministry "has always been intended to provide opportunities for people even at the grass root level to have a say in what should happen…and that is why leaders constantly reach out to people to motivate them to want to be part of the decision-making for their communities."
Whittaker also noted that even as government provides these opportunities, residents must decide to participate and as such they must attend meetings, air their views and be a part of the decision-making process.
"It also calls for residents to show an interest, when projects are being implemented and be a part, whether actively or passively in the project," he said.
Around the Web