The body of a young miner was found with a bullet wound to the chest at Bonehead, Omai on Monday afternoon.
Dead is Jahave Browne, 23, of Market Dam, Helena, Mahaica, East Coast Demerara. His remains were transported out of the Omai area by police yesterday and up to late yesterday afternoon it was at the Linden Hospital Mortuary. It is to be transported to the city some time today.
Police said in a press release that the body was found around 4 pm yesterday "with a wound to the chest." Efforts, police said, are being made to have the body brought out to Georgetown for a post-mortem examination. Investigations are in progress.
When contacted, Crime Chief Seelall Persaud said the young man had a bullet wound to his chest when he was found. He said investigators were unaware of the circumstances under which Browne sustained the wound. Persaud added that one had been held.
Browne's relatives yesterday said they suspected that a man had delivered on a promise to kill him, over his [Browne's] friendship with the man's girlfriend. Another theory was that he was the victim of a robbery.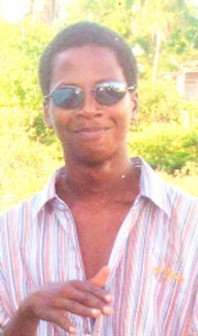 According to an aunt, Lorna Browne, she learnt her nephew had been threatened. She explained that Browne was friendly with a girl and this upset her boyfriend, who threatened to kill him. "Is after that is every week he coming home…they seh how he coming home this week, but look how he come," she said in tears.
Another aunt, Marlyn, said that around 5 pm on Monday, a woman came and said that her brother "just bring out a message" that Browne was shot dead. There are also reports that he was beaten.
The aunts said that Browne's sisters travelled to Linden yesterday and saw the body.
According to them, the young women said that he had on his work clothes. He was wrapped in a sheet and had a bullet hole in his chest.
Based on what the young women were told, a police team will be heading into the area later in the day to begin an investigation.
Meanwhile, Browne's grandmother, Ursula, 74, who had raised him and had not seen him for some time now, was in shock over his death.
All of the relatives this newspaper spoke with described the young man as a quiet, easy-going person who always smiled. They said that he was not the type to get into trouble or start trouble.
Browne leaves to mourn his father, Rupert Browne—who is on remand for allegedly murdering his wife, Seema Singh—a brother and three sisters.
This latest murder is one of three for the month in the interior. On September 10, Brazilian national Marie Alves Da Silva was found with her throat slit at an internet café in Takutu Backdam, Region Eight. A quantity of cash was discovered missing from the business place that the mother of one had been employed at for several months.
She had journeyed to Guyana to get her husband but they did not have enough money to travel back to Brazil. Da Silva subsequently found a job while her husband continued working at a mining camp several miles away. Though several persons had been held in the initial stages of the investigation, no charges have been laid.
On September 5, Tuschen carpenter Aftab Rahim, 32, died at the Georgetown Hospital, five days after he was beaten and robbed of over $200,000 at Apaika Backdam, Enachu, Cuyuni/Mazaruni. No arrests have so far been made in the case.
Around the Web