Minister of Home Affairs, Clement Rohee commissioned the newly rehabilitated Richard Faikall Police College in Essequibo where 30 officers are undergoing training.
In 2001, then Police Commissioner Laurie Lewis dedicated the college in honour of Sergeant 11117 Richard Faikall who died in the line of duty in 1997, a press release from the Government Information agency (GINA) said.
Sergeant Faikall was shot by bandits during a bank robbery at Anna Regina.
Subsequently, government with support from the private sector undertook to rehabilitate the facility, to boost its capacity.
In his address, Rohee said that refurbishing the facility was a great achievement as training is an ongoing and important component of the force. Turning to the officers in training, the minister told them that they must have a passion for their profession. "Maintain your focus and do not allow yourself to be distracted by detractors, whose sole purpose is to cast aspersions and demoralise your profession," he added. The minister also told the trainees that maintaining integrity at all times and practicing impartiality when discharging their duties was vital. "If you must take a side, ensure you are on the side of the law at all times, which is where your loyalty must lie," he said.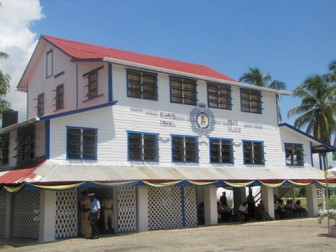 According to GINA, Police Commissioner Henry Greene noted that resuscitating the college is a fitting honour to the Faikall family.  He also said that the force loses recruits all the time and as such continuous training is necessary if it is to fulfil its mandate to protect and serve. Greene echoed the minister's charge to the trainees to maintain personal discipline while conducting their duties.
He also reminded them that "they are not masters but servants of the people and as such they must work closely with the community and be exemplary role models, particularly to the youths, to ensure that they are molded into responsible citizens of tomorrow.
Region Two Regional Chairman Ali Baksh said he hoped that the trainees would emulate Faikall, who led by example and whose contribution has made a difference to the country.
He noted too that new challenges come with the age of technology and the Force must be able to deal with them.
Around the Web