The Guyana Power and Light (GPL) yesterday commissioned a 15.6 MW expansion of its Kingston Warstila Power Plant, a facility aimed at meeting the increased demand for power and ultimately reducing production costs and improving supply reliability.
Chairman of GPL's Board Winston Brassington said that this investment coupled with the expected completion of an integrated transmission network (from Skeldon to East Coast Essequibo) could possibly signal the end for more investment in improving the company's generation capacity but he deliberately stayed away from making any definitive statement.  "With this integration, hopefully we will not have to add more generation," Brassington said, "but I don't want to make such a statement given our past trends," he added.
In December 2010, GPL commissioned a US$27.5 million power station at Kingston, adding 20.7 megawatts to the generation capacity of GPL. On that occasion, Brassington had said that blackouts due to generating capacity would end with the commissioning of the new plant. However, it was late last year that President Bharrat Jagdeo revealed that the government would have to find some US$20 million for a power plant before the Amaila hydropower plant is in place.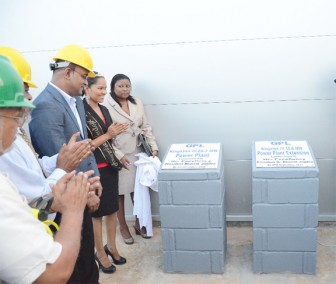 GPL's CEO Bharat Dindyal indicated that the new powerful plant, which is made up of two 7.8 megawatt units, would help to meet the rapidly growing demand for power in the country. The demand for electricity, he said, will continue to grow above 4 per cent over the next five years.
"Since 2005 GPL has been setting a new power production record every year with average growth over the last five years being 4.4 per cent," Dindyal said.  According to him, generation for this year is forecasted to be just over 650 GWh with the Demerara Interconnected System expected to account for 79 percent of that.  "Peak demand in Demerara is now approaching 80 MW with demand during business hours peaking at almost 77 MW," he disclosed.
Available generation capacity in Demerara prior to the new 16.6 MW expansion was 86 MW with 19 MW being mobile Caterpillar capacity. "Without this expansion our reliable baseload capacity is 59 MW," Dindyal said, adding that the need to invest in base-load capacity was obvious. The company's planning, he said, is also premised on the Amaila Falls hydropower project coming into operation by 2015.
The new generating facility in addition to other infrastructural changes in the pipelines, Dindyal said, will hopefully lead to new designs in 2012 that will vastly improve the reliability of the company's network.
Delivering the feature address, President Bharrat Jagdeo said that the investment was necessary because the government could not afford to retard growth and the legitimate demand of the citizens for an improved and reliable power supply.
He emphasized, though, that the future of Guyana's power supplies would revolve around renewable energy.  "We have decided that the future of Guyana will have to be around renewables," Jagdeo said, explaining that this was necessary not only for the impact on the climate but for GPL's financial sustainability and that of the customer given the uncertainty of oil prices.
Plugging the Amaila Hydropower Project, which he said would cost is US$835 million in its entirety (construction cost and the cost of capital during construction), the President said this is a "huge project" for Guyana. "But you have the gripers and the nitpickers who go after every big project and when the projects are completed they shout at the top of their voices how supportive they have been. So we do have them around the hydropower too," he said.
"It [the hydropower] will deliver the results and when that project is finished he said that 95 per cent of the power needs will come from that project," Jagdeo said. He said all the money being spent on the Amaila Falls project is being spent in a transparency manner.
Jagdeo also plugged the government's initiative to procure 11,000 solar units to provide electricity to 11,000 homes in the interior. This project is expected to come into operation by the first quarter of next year.
Prime Minister Sam Hinds, who has ministerial oversight over the electricity sector, recounted the efforts that the PPP/C administrations have made to provide reliable energy to the population. Commenting on GPL's partnership with Wartsila, he said Wartsila was known for reliability and performance.  He said though that Warstila had to compete with other entities in winning these contracts. General Manager of Wartsila Caribbean Inc March Tarbox, had earlier, identified the long history that his company had with Guyana.
Plugging renewable energy resources, Hinds also spoke about the possibility of a wind farm being built on Hope Beach. He pointed to initial concerns about the economics of the project but identified recent reports which suggest that the current systems and arrangements may be more feasible.
Hinds, in a backhanded remark, also indicated his interest in continuing as the country's energy minister. Stating that he had been pleased to be presiding over the electricity sector during this time, he said he hoped "maybe to continue taking our electricity sector to even higher levels".
Jagdeo, in his presentation, joked that this wish could only be decided by one person (identifying the PPP/C presidential candidate Donald Ramotar) but pledged to put in a good word for him (Hinds) because of his good performance.
On November 16, last year GPL signed a US$18.4 million contract with Warstila Caribbean for the supply of two Wartsila 18V32 generators.   The main shipment arrived in Guyana on May 16 and the assembling of the plant started on May 27.
Around the Web