Several Region Nine farmers and households affected by flooding in July were given the sum of $20,000 each to cover their losses, as government rolls out the third phase of its support programme.
According to a press release from the Government Information Agency (GINA) Minister of Amerindian Affairs Pauline Sukhai and a team including Permanent Secretary Collin Croal, Regional Chairman Clarindo Lucas and REO Ronald Harsawack travelled to Karasabai on Friday to distribute the money. Farmers in Wichabai, Tiger Pond, Taushida, Yurong Paru and Pai Pang also benefited from the exercise.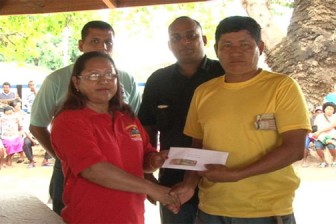 In her address to the recipients, Sukhai said a number of government offices including the Office of the Prime Minister, the health, education, agriculture, local government and public works ministries contributed to the effort. She said too that government's response is in keeping with guidelines set out in its manifesto regarding Amerindian development.
Lucas encouraged the communities to continue their works programmes as they, and several communities on the coast have survived incidents of flooding and have overcome. In addition, Harsawack said the third phase of government's support package will be replicated in all sub-districts and villages in the region and all 2000 persons who suffered will benefit.
GINA stated that a ministry representative and a representative from the Auditor General's office will be travelling to other Region Nine communities to continue the distribution exercise. It also noted that in beginning, the recovery effort focused on the availability of food and food production and several communities were given farming supplies including chemicals to treat acoushi ants. They were also given spray cans, a variety of seeds, mineral blocks, storage containers, cassava mills and small water pumps.
Around the Web