Two Ontario, Canada-based universities are targeting prospective students from Guyana.
Brescia University College, Canada's lone women's university, and the University of Waterloo have dispatched a two-member delegation to meet guidance counsellors and other relevant officials at schools where students may be interested.
"My understanding is that mainly American universities come down here so we're trying to share that and to let them know that there are other options as well," said Coordinator of the International Student Programme at Brescia University Christina Lord.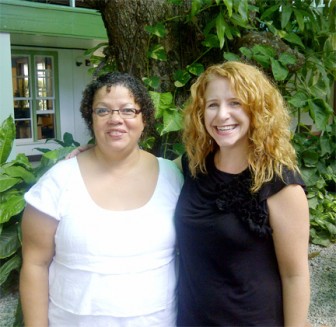 The two officials visited Queen's College, Bishops' High School, St Stanislaus College, St Rose's High School as well as private schools, the School of The Nations, Mae's Secondary, and Marian Academy.
The recruiters stated that they have thoroughly enjoyed meeting the Guyanese children and were in awe at their level of intelligence. "Wonderful, the students, very polite, very accepting, they have thought about their questions," said Lord, who has lived, studied and worked in Jamaica, the United Kingdom and Canada.
"We know that there are students here that have high academic standards so I think that is part of the appeal to come here," added the Guyana-born Lord.
Brescia University accepts the Caribbean Examinations Council's Caribbean Secondary Education Certificate (CSEC) passes to enter a one-year pre-university programme as well as Caribbean Advanced Pro-ficiency Examination (CAPE) passes.
Currently, there are eight Guyanese studying at the University of Waterloo while Brescia anxiously awaits its first student.
At the University of Waterloo, students must have CAPE and would almost certainly be regarded as having advanced standing because they are at a level that is almost one year higher than students coming from high school. Engineering students must have English, Mathematics, Physics and Chemistry passes.
Lord said Guyanese women should attend Brescia University College because of the unique environment that has been created especially for them, and the focus on leadership.  "We are a women's institution which means that we have an understanding that women learn differently to men and therefore we want to give them the opportunities to study in ways that are more particular to women," she said.
The Brescia official also highlighted the fact that her institution focuses on leadership, equipping students with skills to return to their home countries and take up leadership positions.
The University of Waterloo official added that studying at Canadian universities provide graduates with a high standard of education because almost all of them are publicly funded and there is a national equivalency mechanism that guarantees globally recognized standards. She singled out Waterloo University as the home of the BlackBerry phone, since it was invented there.
Waterloo also boasts the most math students from any one university to be accepted by popular software companies such as Microsoft and Apple and has been ranked Canada's most innovative university for 19 years.
The overall cost of education, including accommodation, the officials said, would be equivalent to US$30,000 per year, much cheaper than American universities and others in Canada.
Students are allowed to work on and off campus. Immigration rules also allow graduates working after three years to apply for permanent residency.
"Students, wanting to stay longer and work, we never say that they can't come home. We want to produce people and have them come back and be leaders in their community but they have those opportunities to get North American work experience," said Senior Inter-national Marketing and Recruitment Specialist Michelle Burlock. Except for providing letters of acceptance, the universities can do little to help students get Canadian visas.
Officials from both universities stated that they have been visiting Trinidad and Tobago, Barbados, Colombia, Ecuador, Jamaica, Cayman Islands, Antigua and Barbuda, and Bermuda.
Around the Web