Motor vehicle PGG 6981 last night collided with a 12-wheeler DAF truck, licence plate GNN 7633, at Eccles, East Bank Demerara, in front of the Two Brothers Gas Station.
According to the driver of the truck, he was about to turn into the gas station to purchase fuel before travelling to the interior. The owner of the truck, who was in another vehicle, stopped on the other lane, giving the truck the opportunity to make the turn. However the driver of the other vehicle overtook the owner and crashed head-on into the side of the truck.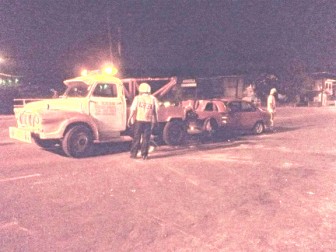 This newspaper was told that the driver of the car which collided with the truck appeared to be drunk and was quite "shaken up". He was taken to the hospital with what were said to be minor cuts and bruises.
Meanwhile, the truck owner was outraged at the police who indicated that the driver of his truck would be arrested. The owner stated that the damage to the truck's tyres and springs would cost an estimated $1 million.
Around the Web