A row between a labourer and his wife last evening ended tragically when their two-storey Enterprise, East Coast Demerara home went up in flames leading neighbours to believe that the fire was a deliberate act.
The fire, which began sometime between 7:30 pm and 8:00 pm, gutted the home of the couple and their two sons, ages 7 and 5, which is situated on the corner of Middle and Fernandes streets.
According to neighbours, the man, only name given as Ramnarine, constantly abused his wife and during last evening's episode, bit her several times on her hands.
When Stabroek News arrived on the scene, only firefighters and a few neighbours were seen.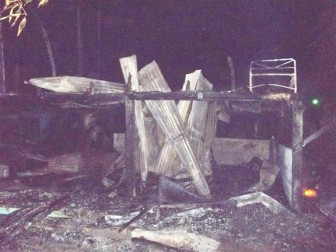 This newspaper was told that after the house caught afire, the man ran up Middle Street but was chased by police who subsequently arrested him while the whereabouts of the woman and her two children remained unknown.
A family friend related that although the couple had many disputes, they never had one to this extent.
He stated that Ramnarine was deported to Guyana about ten years ago. He added that the couple constantly fought when the man would ask his wife for money.
Ramnarine was said to be a seasonal worker and depended on his family who would usually send money from abroad. With this, the man provided for his family since his wife was not employed.
Around the Web